Bypass moves forward with fuel-tax passage
September 5, 2013 - 4:30 am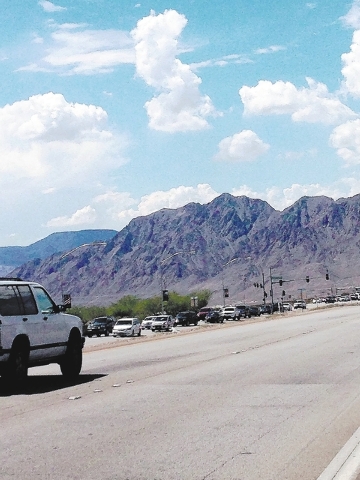 The reality of the long-talked-about city bypass is the closest it has ever been with the passing Tuesday of a fuel tax increase by the Clark County Commission.
In a 6-1 vote, the County Commission passed Clark County's fuel-tax increase, placing in motion the likely construction of an Interstate 11 loop that will run south of Boulder City. The Regional Transportation Commission of Southern Nevada told city officials in July that construction could start in 2014 with the project completed in late 2017 if the county passed the tax.
Mayor Roger Tobler, who attended the 2½-hour hearing in Las Vegas, said the tax's passing and resulting loop funding is "kind of exciting."
"We've been working a long time on this and I-11 has really grown into something much greater than a Boulder bypass," said Tobler, who also sits on the Transportation Commission board. "People understand the regional importance of it."
The I-11 loop is part of a larger project in early stages that would connect Las Vegas and Phoenix via an federal interstate.
Within an hour of the tax increase's passing, City Manager Dave Fraser and Chamber of Commerce CEO Jill Rowland-Lagan met to discuss meeting with local business owners and citizens who are concerned with the potential negative effect the road south of town could have on tourism. Tobler had asked for meetings in July, but officials wanted to see if the fuel tax passed before moving forward.
Tobler said the city can begin communications with local business owners and citizens to minimize the potential negative effect, or enhance new tourism opportunities brought about by the loop.
Fraser said when he came to Boulder City late last year he was worried about how the potential decrease in traffic could affect businesses. However, the traffic problems he's witnessed has changed his thinking.
"I've really come to see it as necessary," Fraser said. "What will happen with traffic over the next 10 years if we don't do it will be untenable."
Fraser said the city needs to be "active and creative in promoting what we have here and seeking new ways to promote all the things there are to do in Boulder City."
The Transportation Commission estimates the increase would allow it to sell nearly $700 million in bonds based on future revenue, nearly $230 million going to an I-11 loop. Construction costs of the 12-mile phase is estimated at $280 million. The increase will raise the tax on all vehicle fuels by 3 cents a gallon for each of the next three years.
Beyond Boulder City, 182 road projects in Clark County will receive funding from the tax including widening U.S. Highway 95 in the northwest part of Las Vegas from Ann Road to Kyle Canyon, bringing Interstate 215 to freeway standards, and improving heavily traveled corridors such as Maryland Parkway and Paradise Road.
The increase will go into effect Jan. 1 and last through Dec. 31, 2016. The annual effect to an average Southern Nevada driver equates to about a dime a day over the next three years, according to the Transportation Commission.
"This will enable the RTC to raise the revenue necessary to fund critical transportation projects in and around the Las Vegas Valley, benefiting hundreds of thousands of motorists and creating nearly 8,931 to 9,467 person years of employment," Transportation Commission General Manager Tina Quigley said in a statement. "This initiative will improve connectivity and enhance transportation infrastructure in Southern Nevada, allowing residents, tourists and goods to travel more efficiently into and around Las Vegas."
The County Commission's fuel-tax vote was possible because the Legislature gave the county that option. The current county fuel tax is 9 cents. Each gallon already has 52.2 cents in taxes and fees, including federal, state and county taxes.
In November 2016, residents get to weigh in on whether to allow more fuel-tax increases. In a vote, residents will decide then whether they want to authorize commissioners to put additional fuel-tax increases in place each year, which would be tied to the rate of inflation. If they reject future increases, the first three years of fuel tax increases will remain in place.
Commission Chairman Steve Sisolak cast the lone "no" vote Tuesday.
An early proposal to fund the loop through a toll road was abandoned this year.
Contact editor Arnold M. Knightly at aknightly@bouldercityreview.com or 702-586-9523. Follow the paper on Twitter: @BCReview.