Bypass construction on schedule; set for 2018 completion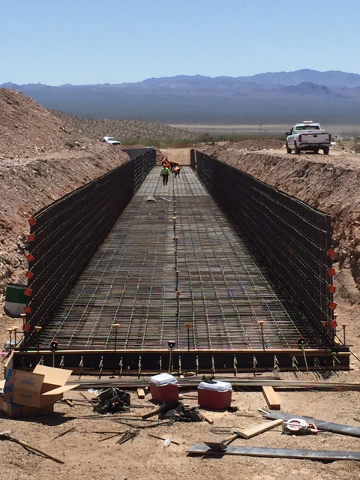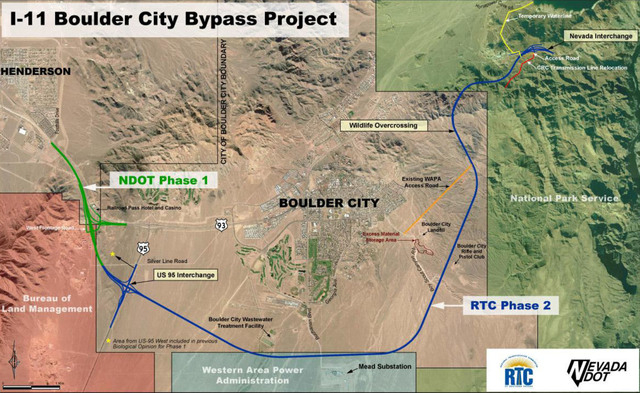 Construction of the Interstate 11 bypass is progressing as planned, with part of it coming along faster than expected, according to the Nevada Department of Transportation.
NDOT Public Affairs Officer Tony Illia said Phase 1, it's portion of the interstate project, is 37 percent complete and is ahead of schedule.
"We are actually moving much faster than expected," Illia said. "We are expecting to be done with our part of the project by December 2017."
Phase 1 is a $82 million project that involves building a 2.5-mile, four-lane concrete interstate freeway between Silver Line Road and Foothills Drive.
Construction crews have currently moved 1 million cubic yards of earth in the Phase 1 area.
Illia said the amount of dirt moved to construct the bypass is enough to fill 400 swimming pools.
A full diamond interchange also will be constructed near Railroad Pass hotel and casino. The interchange will allow constant four-way traffic by implementing a series of ramps and overpasses.
U.S. Highway 93/95, where the casino is located, sees a high amount of traffic, with over 35,000 vehicles and heavy trucks driving through the area daily.
"We get a lot of traffic near Railroad Pass," Illia said, "The interchange will keep the heavy traffic flow moving." Phase 2 is managed by the Regional Transportation Commission of Southern Nevada is also on schedule to complete the other 12.5 miles of the interstate by 2018. Phase 2 is being worked on concurrently with Phase 1. "We started construction in 2015 and we are currently on schedule to finish in 2018," RTC representative Monika Bertaki said. "Bridge construction, drainage structures, utility work, dust control, fencing and earthwork removal should be completed on time."
Bertaki said bypass construction will cause minimal community disruption because it is being built away from U.S. Highway 93/95.
For more bypass updates, head to NDOT's or the RTC's web page at http://bit.ly/1NWorKT or http://bit.ly/19oj6It.
Contact reporter Max Lancaster@bouldercityreview.com or at 702-586-9401. Follow him on Twitter @MLancasterBCR.