Boulder City wants to add 2nd fire station by end of year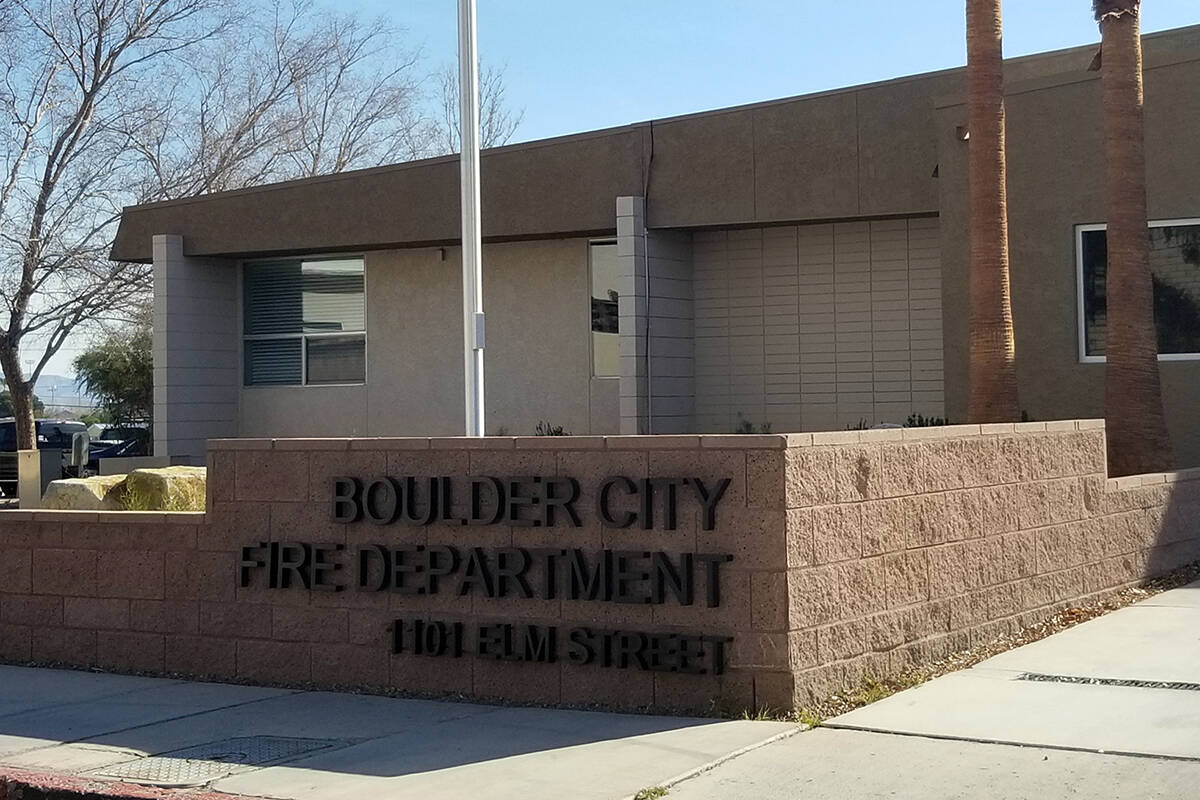 Boulder City is finalizing plans to add a second fire station before the year is over, an initiative that Fire Chief Will Gray said is needed to quicken response times and improve safety for a greater number of residents.
A design team is finishing architectural drawings, which are expected to be presented to the City Council next month, Gray said.
"It's all ready to go, we just need the City Council to approve the funds," Gray said Wednesday, in a phone interview with the Review-Journal. "We have the design team working on it. They're anticipating being completed (with construction) by the end of the year."
Boulder City — at more than 208 square miles, is one of the largest cities in the country in terms of land area — and roughly half of the city's approximately 14,880 residents live outside of the safe range of its only fire station.
Response times are an important factor for the department. "The national standard for travel time is you should be within four minutes of a fire station," Gray said. "About half of the citizens are currently within the four-minute travel time. About half of the citizens, 6,900, are outside the travel time."
After the new fire station is added, 4,500 more residents will then live within the recommended four-minute traveling distance, increasing their chances of surviving if their house catches fire.
"When a house fire starts, a small fire, for the first couple of minutes, it's easy to put out," Gray said. "As the heat starts to build up … the temperature of the whole room rises and rises, and all at once it lights up. That's called flashover. That's a much bigger flame, and you have a fire that can't be put out with a fire extinguisher. If you're stuck inside it, it's really hard to survive. It can get to be 1,000 to 2,000 degrees inside the house, and the human body can't survive that."
Gray also noted that short response times are critical when a resident goes into cardiac arrest.
"If your heart stops, you have four to six minutes to get it going again, or your brain starts to die," Gray said. "And there's a 10 percent reduction in your chances, every minute that passes."
While blueprints are not yet available, Gray described the planned station as similar in appearance to a four-bedroom, three-bathroom house, with sleeping quarters, an office, a workout space and room for a fire engine and an ambulance.
The $1.6 million station will be located at the intersection of Quartzite Road and Nevada Way, and is being paid for with American Rescue Plan funds.
"They budgeted $1.6 million, and the builders believe they're going to be able to come in on budget," Gray said.
The Boulder City Fire Department isn't seeking to "grow" its operation, just working to improve public safety, he said.
"We're just trying to make sure we have adequate coverage so that all citizens are equally protected." Gray said.
Contact Justin Razavi at jrazavi@reviewjournal.com. Follow @justin_razavi on Twitter.