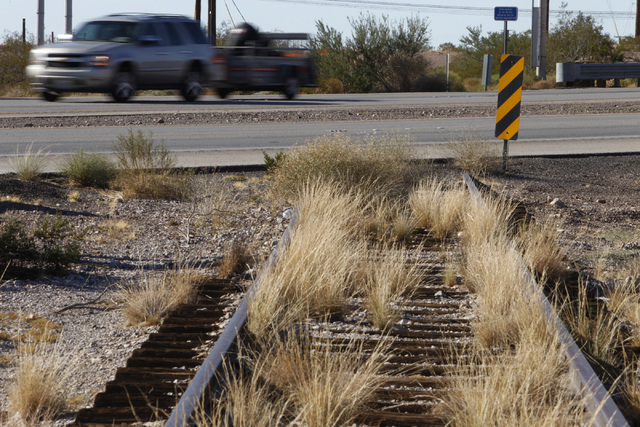 Ever since engineers began drawing lines on maps delineating where Interstate 11 would go in Southern Nevada, the focus has been on truck and automobile transportation on the state's highway system.
It turns out that rail aficionados will have something to cheer about when workers contracted by the Nevada Transportation Department begin construction of the freeway next spring.
The Boulder Branch railroad line, a 22-mile spur that veers off the main Union Pacific line near Russell Road in Las Vegas south through Henderson, will be restored to Boulder City as part of the I-11 project.
The line was severed in 1998 when tracks at a grade crossing on U.S. Highway 95 near the Railroad Pass Casino were paved over.
Two bridges, one for pedestrians and one for the railroad track, are a part of the I-11 project.
To Greg Corbin, director of the Nevada State Railroad Museum in Carson City, it's the fulfillment of a long-held promise to restore the line all the way to Boulder City.
"To finally see this all come together is really satisfying," said Corbin, who called the bridge the single most important project for the Nevada Southern Railroad Museum in Boulder City.
The restoration of the Boulder Branch line is a part of the Transportation Department's Nevada State Rail Plan published in March 2012. The rails on the southern portion of the line that end in Boulder City carry weekend excursion trips four times a day every Saturday and Sunday.
Tourists pay $10 a ticket ($5 for children) to take the 4-mile, 40-minute trip out and back to Railroad Pass from Boulder City. Because there's no place to turn the train around, it chugs up a slight grade to the pass, then rolls back into Boulder City.
The line was built by the Union Pacific Railroad in 1930 and completed in 1931 to transport people, supplies and equipment for what was known then as the Boulder Canyon Project, later called Boulder Dam and then Hoover Dam.
It was decommissioned in 1961 after the last generator was delivered to the dam. In 1985, Union Pacific donated the land to the state for the museum and to Henderson, which maintains the line north of the break.
"One of the things we'd really like to see is the extension of the Boulder line," said Corbin, who oversaw the Boulder City museum for 16 years before taking the position in Carson City this year.
"You know that view that you get of Las Vegas when you come over Railroad Pass? That's what we want for our passengers," he said.
Corbin said extending the excursion a few miles would provide enough time to develop a dinner train ride, a popular attraction on other excursion lines.
For a longer version of this article, visit www.bit.ly/1vrPuRj.
Contact Richard N. Velotta at rvelotta@reviewjournal.com or 702-477-3893. Find him on Twitter: @RickVelotta.