Beerfest on tap for Saturday at park
October 31, 2013 - 4:03 am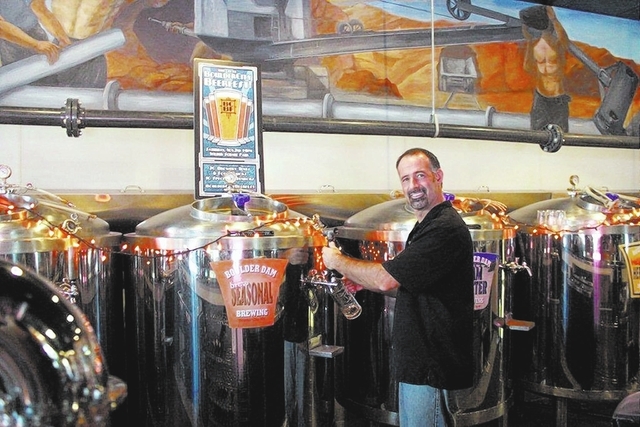 Boulder City's first beer festival is coming Saturday to Wilbur Square Park. Boulder City Beerfest will feature 20 beer tents from breweries and distributors, as well as food trucks and vendors.
The event was spearheaded by Las Vegas beer enthusiast Michael Pfohl, who helped start the Brews Best beer festival at Lake Las Vegas and the Brews &Blues Festival at the Springs Preserve.
Pfohl also runs the nevadabeerlovers.com website.
"I like to set up new events, and we're trying to promote craft beer," he said. "Boulder City deserves its own annual beer festival for sure."
Boulder Dam Brewing Co. will be sponsoring the event as the host brewery.
"I thought it would be a lot of fun. Beer festivals are a lot of fun, and Boulder City has never had one before," Boulder Dam Brewing Co. owner Todd Cook said.
Cook said he thinks the event, which aims to attract 1,500 people, will be successful in Boulder City.
"I've been to successful beer festivals in odd locations, and Boulder City is not an odd location to have one. We have large successful events in Boulder City," he said.
General admission costs $30 in advance at the Boulder Dam Brewing Co. or Khoury's Fine Wine &Spirits in Henderson. Tickets allow one to enter the festival at 2 p.m. until it's over at 6 p.m. If purchased on site Saturday, general admission costs $40.
VIP tickets can only be purchased in advance for $40, and allow one to enter the festival at 1 p.m.
"Some people just like that extra hour because it provides short lines," Pfohl said.
Once inside the festival, beer drinkers will be given wristbands and a souvenir glass for an unlimited sampling of the various beers on site.
Some participating breweries are Boulder Dam Brewing Co., Pyramid Breweries, Ellis Island Brewery, Barley's Brewery, Left Coast Brewing Co. and Magic Hat Brewing Co.
Food trucks include Wha Du Pho Asian Fusion, Coast 2 Coast Deli and Engine 1 Pizza. Jo Jo's Jerky, Las Vegas Kettle Corn, Beer Magazine, Fotobomb photo booths, Vato Cigars and other vendors will also be on site.
The event will serve as a fundraiser for the Wounded Warrior Project, a national nonprofit organization that assists wounded veterans through rehabilitation programs.
Cook said Pfohl allowed him to pick the charity the event would benefit.
"Having the ability to pick what charity to be involved with, that was huge for me," Cook said. "A lot of the stuff we do is involved around the military or vets."
Pfohl said the festival was initially planned for May, but a conflicting event forced it to be pushed to November.
A second Boulder City Beerfest is scheduled for March 29.
"We've grown the (beer) scene (in Southern Nevada) a lot," Pfohl said. "The scene needs to keep growing."
For more information, visit www.bouldercitybeerfestival.com.