Beautification plans for parkway raise concerns about speed limits, accessibilty
October 4, 2017 - 3:30 pm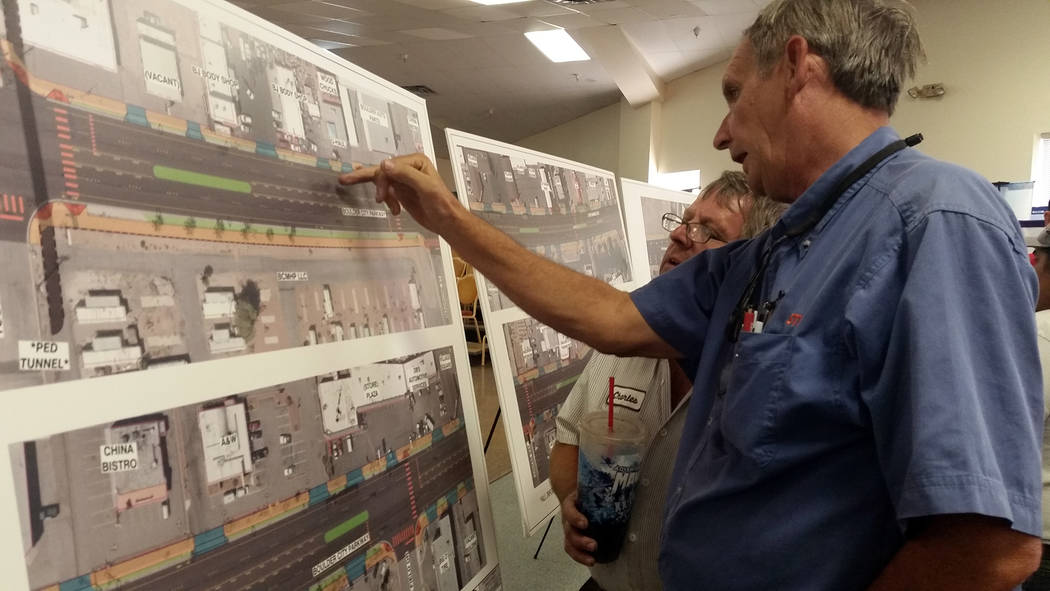 Boulder City residents and businesses raised concerns about speed limits and accessibility along Boulder City Parkway as plans for the city's complete street beautification project were discussed at a public meeting Tuesday evening.
The questions of reduced speed limits, pedestrian crossings and greater visibility were among the topics raised by those attending the meeting. Businesses especially expressed their concerns that the proposed improvements wouldn't impede access to their establishments.
"What we are trying to do is expand what we did in downtown," said Roger Tobler, business owner and former mayor, who is serving as a liaison between the city and businesses for this project.
"We have changes coming into Boulder City, and this is an improvement," he added. "This is going to bring pride back into Boulder City when you come into town. This is something the community can be proud of, and it's something we're trying to do."
The estimated $10 million Boulder City Parkway complete street project will renovate the streets and sidewalks on Boulder City Parkway from Buchanan Boulevard to Gingerwood Street to make it safer and more aesthetically pleasing.
It includes widening the sidewalks, creating bike lanes, improving pedestrian and bike crossings, improving the median and creating bus turnouts.
City Engineer Jim Keane said the city received initial design plans, which are 30 percent completed, in July. Using input received at public meetings, they are on track to be finished to go bid in April 2018, should a funding source be found.
The city is still researching a funding source for the project, and its ongoing maintenance. According to Keane, it will only go to bid if funding is available.\
Lower speeds
Several residents and business owners asked whether the speed limit along Boulder City Parkway would be changed and expressed a desire to see it lowered.
Keane said that it would remain the same, 35 miles per hour with 45 miles per hour at the west end of the street.
Jim Caviola of the CA Group said that they would research reducing the speed limit, but as it is under the control of the Nevada Department of Transportation, they would have to evaluate it.
Another concern mentioned was pedestrian crossing and whether there would be a safe way to cross the street.
"There will be a crosswalk with flashing lights, and they'll have to stop," Keane said.
Caviola added that the newer technology for the flashing lights make them "fairly intense" and easier to see, as compared to others in the area.
Bicycle traffic
Another element of the project is bicycle traffic.
Caviola said that complete street project is focusing on two types of bicycle riders — those who bike quickly at 30 miles per hour and those who go slower. Those traveling faster can use the bike lane, and the others can use the wider sidewalk.
"We want the people on the bikes to be able to go to businesses," he added.
Resident James Adams asked about the type of landscaping this beautification would bring.
"It's similar to what we did downtown," Keane said.
Cary Baird of Stantec, landscape architect for the project, said that he is very conscientious of water conservation and that all the planned landscaping from Veterans Memorial Drive to Buchanan Boulevard will not use any water.
Both residents and businesses have expressed concern about the changes to the sidewalks and the street hurting businesses and making it harder for people to get to them. "The goal is to help the businesses … That's why we've made such an outreach effort," Tobler said.
Reaching out
In March, Tobler told the City Council that of the 49 parcels of land along the business corridor, he had met with 34 of the businesses.
On Tuesday he said that this project has been "overwhelmingly accepted by businesses," and that they are still tweaking it and working with those who are negatively affected by it.
Another concern brought up was whether their businesses would be held accountable for any changes or damage to their signs.
Tobler said there are current sign ordinances in place by the city, and this project wouldn't be adding anymore.
"With this project, we didn't want to create an additional costs for businesses … It would be up to them to make an improvement for their sign," he added.
Jill Rowland-Lagan, CEO of the Boulder City Chamber of Commerce, said that there is "no appetite for standardized signs."
After Tuesday's meeting, Keane said that staff will review the public input and give it to the CA Group to address in the design plans.
"I think it went well," he said of the meeting. "We were there to give an update and gather comments."
Contact reporter Celia Shortt Goodyear at cgoodyear@bouldercityreview.com or at 702-586-9401. Follow her on Twitter @csgoodyear.