November 1, 2017 - 2:37 pm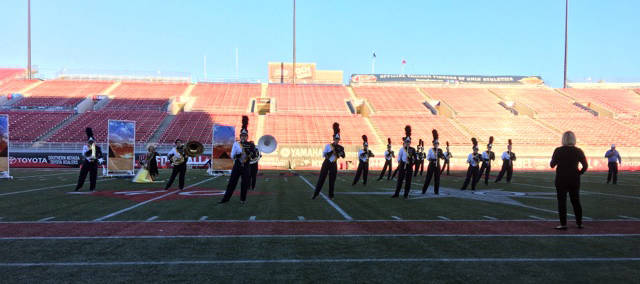 Boulder City High School's marching band and color guard came home with a handful of first-place awards after competing in the Western Band Association's UNLV Super Show at Sam Boyd Stadium on Saturday.
The 48-member ensemble won first place in its class, high auxiliary (color guard), high visual, high music and high effect. BCHS competed in the 1A class for bands with one to 60 members.
They competed against Bonanza, Bishop Gorman, Mojave and Virgin Valley high schools.
"The kids have been working really hard, and they have really enjoyed the theme and embraced this. They are doing some really good things," said band director James Gillette.
In the overall competition for its class, Boulder City scored 65.85 points, with its next highest competitor, Bonanza, scoring 61.9 points.
According to Gillette, this was the first time the band has competed on this circuit or location.
Gillette said this was also the first time in the 10 years he has been at the school that they have been able to perform or compete at Sam Boyd Stadium. When he came to BCHS, high school bands were invited to perform at the halftime shows, but that was discontinued because of budget cuts.
Pyramids of Egypt was the theme of the band's show this year. Gillette said their music and visuals depict the building of the pyramids, discovery of King Tut's tomb and the curse of the pharaoh.
Not ready to rest on their laurels, the band has competitions Saturday and Nov. 11.
On Saturday, they will compete at the Las Vegas Invitational at Las Vegas High School, going up against 12 bands in their class. On Nov. 11 they will compete at the Marching Band Open Series at Sierra Vista High School, vying against seven others in their class.
"The nice thing about these two is … they compete in the morning, and the top 12 highest-scoring bands will perform at the finals in the evening. That is the kids' ultimate goal — to make the finals at either show," Gillette said.
To prepare for the competition, the students have been rehearsing about 10 hours a week.
Hali Bernstein Saylor is editor of the Boulder City Review. She can be reached at hsaylor@bouldercityreview.com or at 702-586-9523. Follow @HalisComment on Twitter.