BC native Corry sports new role
September 17, 2014 - 12:42 pm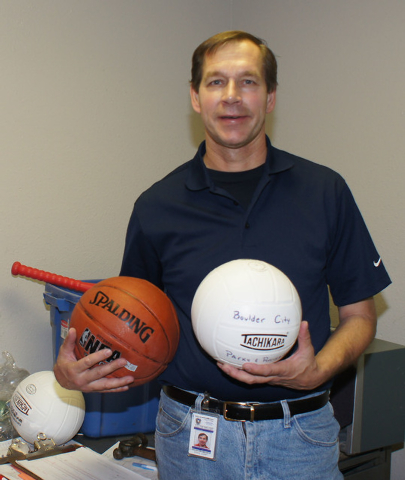 Steve Corry is getting comfortable in his new role as Boulder City's recreational sports coordinator.
Perhaps a little too comfortable.
"My office where I work now was the same room where I went to kindergarten," he said. "I could take a nap in there then, but I can't do that now."
Corry was born and raised in Boulder City. He played basketball for Boulder City High School, and as one of his first jobs in the recreation department, he coached the high school's current boy's basketball coach, John Balistere, when he was still playing youth sports.
Corry recently took over for the newly retired Tay Deering, who spent the past 29 years as the city's recreational sports coordinator. When Corry heard about the opening, he immediately reached out to Parks and Recreation Director Roger Hall, who hired him as the city's full-time aquatic supervisor in 1985.
Corry, who also was instrumental in establishing the Safekey program in 1987, is liked and respected by Hall.
"He has a lot of experience, and he has ties to Boulder City," Hall said. "He's a great worker. He's very loyal and he does a good job. You don't have to check up on him."
Corry headed to Brigham Young University after high school to major in recreation. He described himself as a decent athlete, and basketball was always his love.
"I think what I enjoyed as much is after I finished playing, I became a certified basketball coach," he said. "I wanted to give back to the game. It's not about winning, it's about what we learn from that competition that really benefits us."
Corry worked for Boulder City's Parks and Recreation Department from 1985-98 when he left to become recreation director in Mission, Kan. Fast forward eight years, and Corry was back in Southern Nevada as Clark County's assistant director of parks and recreation.
But Corry said he always dreamed of coming back to Boulder City, the place where he's worked intermittently with the Parks and Recreation Department since 1974.
"To me, it's like going back and filming the sequel to 'Hoosiers,' because every time I turn the corner there's a memory," he said about his return home."I did everything I could to be here."
To help himself acclimate to his new role, Corry took cues from Deering, who Hall also hired in 1985. Corry said the experience he gained with other departments, as well as his familiarity with Boulder City, will help make the town's programs much more successful.
"I remember what the gym looked like as a kid," he said about his connection with the town. "And I feel fortunate that I've worked for other agencies. I sort of have my flavor of what I'd like to do."
Corry said he not only wants to focus on sports as the new coordinator, he also wants to emphasize fitness and the importance of socialization in sports and recreation.
"Socialization is the most underemphasized aspect of recreation," he said. "It really makes the community a community. In an essence, that's what sports are all about."
As Corry returns to the place where it all began, he said he's excited for the opportunity to work with the people he's known for years, as well as keeping a strong sports program in Boulder City.
"That's just the fun of coming back," he said.