BC named one of 'Best Towns for Families'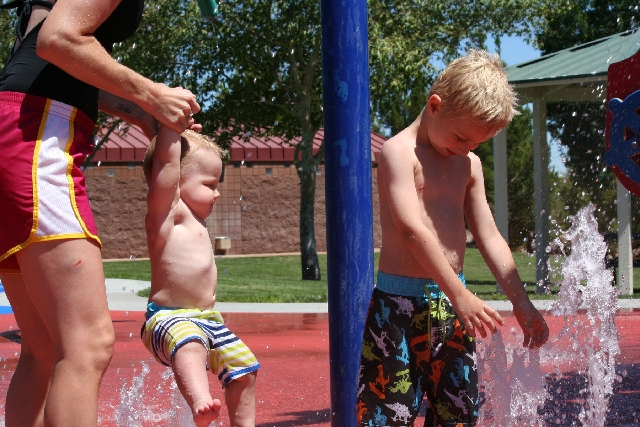 Boulder City has been named one of the country's Top 10 "Best Towns for Families" in the August issue of Family Circle magazine. This comes as no surprise to some of the people who live here.
When 17-year Boulder City resident Merle Owens heard about the article, the first words out of her mouth were, ""That's where I wanted to raise my kids."
And that is exactly what Owens did in 1996. Her husband, Jerry, passed away in 1994 and two years later, she made the move to Boulder City from Southern California with her two then-growing children, Michael, 12, and Holly, 5.
Today after living in Boulder City and working at Garrett Junior High School, Owens said she made "a very, very smart choice" by making Boulder City her home. Based on Family Circle's list, she said, "I feel others seem to agree with that."
The magazine's seventh annual list examines the country's towns looking for "less crowding, concrete and stress; more serenity, nature and neighbors you can count on," according to the magazine's website at www.familycircle.com.
More concretely, article author Seema Nayyar gauged a number of opportunities in areas such as affordable housing, green public spaces, strong school systems and household income levels.
The magazine hired a New York-based research firm to assemble a list of "3,335 cities and towns with populations between 10,000 and 150,000," according to a press release. It factored in households with a median income between $55,000 and $100,000, access to health care, low crime rate and financial stability.
Boulder City has a population of 15,618 with a median income of $63,922. The median home price is $163,000, and 25 percent of the households have kids.
The magazine interviewed Angelica Moorhead, who grew up in Boulder City, before moving away for college and work. She later returned with husband Jim, who also grew up in Boulder City, to raise their children, Ryan, Noah and Jordan.
"You live in a small town and can't wait to get out," she told the magazine. "We had to leave in order to appreciate how terrific it is."
When new City Manager David Fraser heard about the honor, he said, "That's pretty awesome. I'm not surprised. I knew this was a great family town. That's why I decided to move my family here six months ago."
Fraser added, "I think that's a fantastic honor for our community. … I think we deserve that recognition. I hope our residents take a lot of pride in that. I, for one, plan to do a lot of bragging about that."
Local nonprofit Lend A Hand was recognized by Family Circle for the "good deeds" to the community, by assisting "senior citizens by driving them to appointments and helping run errands. Last year volunteers logged more than 5,000 hours of service."
The story is featured in the August issue of Family Circle, hitting newsstands July 2, and online at www.FamilyCircle.com/besttowns.
The magazine also listed Allen, Texas; Madison, Ala.; Marion, Iowa; Morton, Ill.; Rio Rancho, N.M.; Suwanee, Ga.; Troy, Mich.; Upper Arlington, Ohio; and West Hartford, Conn.
Family Circle publishes 15 issues annually and reports a circulation of 3 million.