BC baseball remains unbeaten in league
April 18, 2013 - 12:04 pm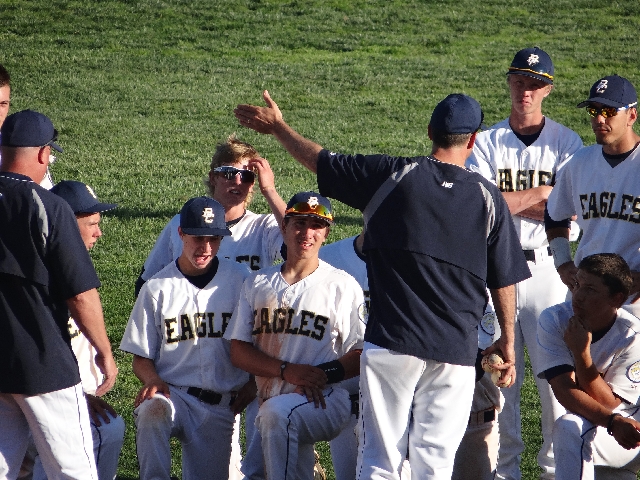 The Boulder City baseball team continues its pattern of losing close nonleague games, but managing to find ways of staying unbeaten in the Sunrise League.
"We hate to lose any games but we seem to lose close ones when they aren't league games," senior Tanner Howell said. "But in the league games, we seem to find a way to win. That's what matters."
The Eagles (13-6 overall, 7-0 Sunrise League), crushed league rival Virgin Valley 19-1 Monday in Mesquite.
Freshman Austin Wishard went 3-for-4 with a double, three runs and four RBIs, and junior Taylor Wold threw a three-hitter, striking out eight.
The team defeated league opponent Sunrise Mountain 11-3 April 11. Senior Bill Barth went 3-for-4 with a double, two runs and two RBIs in the win.
However, Boulder City lost Friday 4-3 at Foothill on a suicide squeeze bunt in the bottom of the seventh. The Eagles will be at Del Sol (4-12) today for a nonleague game.
The team will host Friday second-place Chaparral (17-4, 6-1), then travel to Desert Pines (5-13, 1-6) on Tuesday.
Lady Eagles softball continues league roll
The Lady Eagles split four games during the past week, winning two league games but losing to larger schools.
Boulder City (18-6 overall, 6-1 Sunrise League) rallied from a 4-1 deficit Monday to blast league opponent Virgin Valley, 23-4, in Mesquite.
Senior Jessica Holling went 3-for-4 in the win.
The run explosion came after the Lady Eagles were shut out by Division 1 teams Foothill, 3-0, on Friday and Coronado, 13-0, on Saturday.
On April 11, sophomore Mikaela Brown struck out five in seven innings to defeat league opponent Sunrise Mountain. She also went 3-for-4 with a double, and sophomore Alyssa Ybarra added a triple
Boulder City traveled to Indian Springs (8-4) on Wednesday, and will be at Del Sol (3-14) today.
The Lady Eagles will be looking for a little revenge Friday when they host Chaparral (8-9, 5-2). The Cowboys handed Boulder City its only league loss March 22.
The team will travel to winless Desert Pines on Tuesday. All games start at 3:30 p.m.
Golf cards best score
of season
The Eagles golf team finally broke through with its best game of the season.
Sophomore Luke Logan fired a 4-under-par 67 on April 11 to lead Boulder City to a non league win at River's Edge Golf Course in Needles, Calif. Boulder City had the low team score of 376, with Needles second at 411 and Las Vegas placed third at 473.
The Eagles also were led by junior Marcus Walker (74), senior TJ Hatfield (78), sophomore Christian Hudleson (78) and junior Kyle Effertz (79).
"I felt like we have always had the talent to shoot this low, but we were struggling to put together the right group together and have them all play well," coach Regina Quintero said. "Hopefully, we will be able to go on from here with the same attitudes and concentration. I think now they know that they can play this well. It should be a little easier to persuade them to work a little harder on their individual games."
Another reason for Quintero's optimism is that the River's Edge course is "very similar to the Sierra Sage course in Reno" where state will be held.
"Maybe the scoring level can stay the same for us. We just need this kind of play to go on for another three to four weeks," Quintero said.
The team has a Sunrise League match today at Wildhorse, and another one Wednesday at Coyote Springs.
Swim teams down Silverado
Alex Hubel and Jessica Purdy each won two individual events to lead the Lady Eagles to a 158-125 victory Saturday against Silverado at Multi-Generational.
Hubel won the 100-yard freestyle in 53.96 seconds, and the 200 individual medley in 2:14.9. Purdy won the 100 butterfly (1:00.65) and the 100 backstroke (1:07.63).
For the boys, the Eagles defeated Silverado 189-93, led by Tore Grasso in the 200 freestyle (1:53.09) and the 100 breaststroke (1:06.17).
The teams face Arbor View and Palo Verde on Saturday at Desert Breeze.
Track and field teams
show well
The Eagles placed seventh while the Lady Eagles were eighth in the 17-team Richard Lewis Invitational at Sunrise Mountain on April 12.
Junior Jacorey Dixon won the 300-meter hurdles in 41.09 seconds. Junior Chandler Harkins ran 10:24.25 to place second in the 3,200 meters, and took third in 1,600 in 4:44.24 to place third.
Senior Tanner Imlay was third in the pole vault with a height of 12 feet, while senior Christian Nilsen was second in the discus with a throw of 131-6.
On the girls side, senior Emilia Oscilowicz finished fourth in discus (97-1), senior Eliza Jeppsen took fifth in 800 (2:35.2), junior Jana Williams took fifth in 100 hurdles (19.58).
Both teams hosted a dual meet against Virgin Valley. The freshman and sophomores will compete in their championships Friday in Overton.