BC art festival pays tribute to late founder
November 14, 2013 - 5:43 am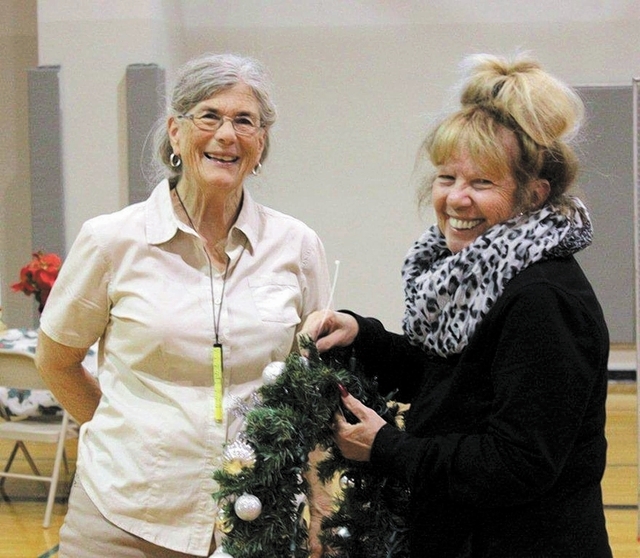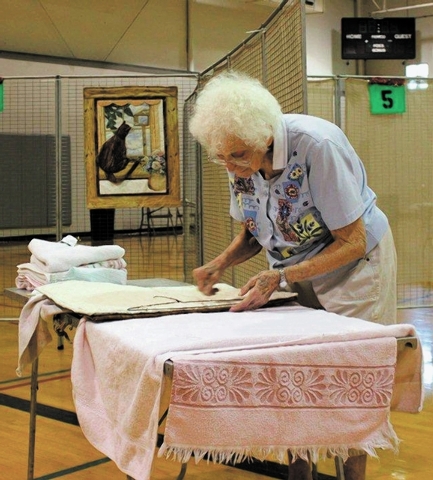 The ninth annual Boulder City Art Guild Winter Art Fest, Nov. 9-10, was a celebration of its founder and guiding spirit, Aileen Dike, who died Oct. 14 at the age of 90. The "Winterfest," as Dike called it, was her idea and continued year after year through her efforts and attention to every detail.
When Dike's health failed earlier this year, she asked Diana Meyer, guild member and director of the spring Fine Art Festival, to take over the Winter Art Fest. "I did not hesitate" to take on the job, Meyer said.
The two-day event in the Boulder City Recreation Center gym featured 24 vendors displaying watercolors, photography, pottery, oils, acrylics and a variety of holiday items.
The show included an exhibit of Dike's work with sales donated to the guild's scholarship fund.
Guild President Marion "Happy" Hoekenga described the show late Sunday afternoon as "very successful," and noted that a number of artists "did quite well" in sales.
Hoekenga thought "the visitors were very interested in the art" and was pleased with the number of attendees, which numbered about 700 by an unofficial count at the show entrance.
The guild president described the event as a "special show" because of the tribute "given to Aileen," and she, and others, felt the show's originator was present throughout the event.
"Everything about the show reminds you of her. That's what I keep thinking," Hoekenga said.
Dike's daughter, Paula Finefrock, and her husband, Monty, donated $1,000 toward the guild's scholarship fund in the Dike family name in honor of her mother. "Let's have her live on a little bit longer" and sell the paintings with the proceeds going toward the scholarship fund, she said.
Paintings created by Dike will be on display for sale at the Boulder City Art Guild Gallery as well as City Lights Gallery in Henderson until all the paintings are sold.
Paula Finefrock said she wanted to see the funds from her mother's works go toward fulfilling "someone's dream" through awarding scholarships to high school seniors majoring in art in college as well as to seniors and deserving students taking classes at the Boulder City Art Center in ABC Park.
Deborah Mays, an art guild member, said she volunteered to work at the art show because when she attended Dike's memorial service she felt she "had been slacking" on her volunteer work and wanted to give something back to the event that Dike had worked so hard to promote.
Mays, who works in oil and some water color and acrylic, said she belongs to the guild because she is "interested in the arts" and in "promoting local art work."
Meyer is no stranger to volunteer work and has been involved with the Boulder City Art Guild since she moved to Boulder City 10 years ago. She said she "loves being involved in activities" and is one of several people involved in the Winter Art Fest since its inception.
Boulder City resident Marilyn Neidlinger said she attended the weekend event to support her friend and participating artist Dotty Fenner, who serves as the guild treasurer. A number of people from Texas, Colorado, Ohio and other states attended the show because they were visiting friends in Boulder City. The city's reputation for art and craft festivals also attracted people from Las Vegas and Henderson.
The Boulder City Art Guild is open to people 18 and older; members do not have to be artists to join. The mission of the organization is "the promotion of fine art in Southern Nevada." The guild also exists to "provide an attractive environment in which artists can exhibit their work … provide annual scholarships(s) for high school and undergraduate students who are studying for a fine arts degree" and support the city's Art Center in ABC Park, according to its mission statement.
The guild has supported the Art Center since its inception and donated $5,000 in 2001 to establish the center and an additional $3,000 in 2002 toward a ceramic mural project, as well as annual $1,000 scholarship donations.
In addition to the winter and spring art shows, the guild's activities include a series of artist talks on the first Thursday of each month at 6:30 p.m. in the gallery on the second floor of the Boulder Dam Hotel, and rotating exhibits at City Hall and the Boulder City Library.
A special guild presentation is the featured artist(s) event every two months, where an artist(s) is highlighted with a display of his or her work and a reception. Photographer Ann Carter is the guild's featured artist through November, and the pottery and sculptures of artists Debbie Hagen, Craig Corey and Lynda Whitehair will be featured at the gallery during December and January, with an opening reception from 1-4 p.m. Dec. 14.
The Boulder City Art Guild and Gallery opens daily at 10 a.m. and one of the guild members/artists is always on duty. For further information about the guild, visit www.bouldercityartguild.com.