Band with Boulder City roots headlines House of Blues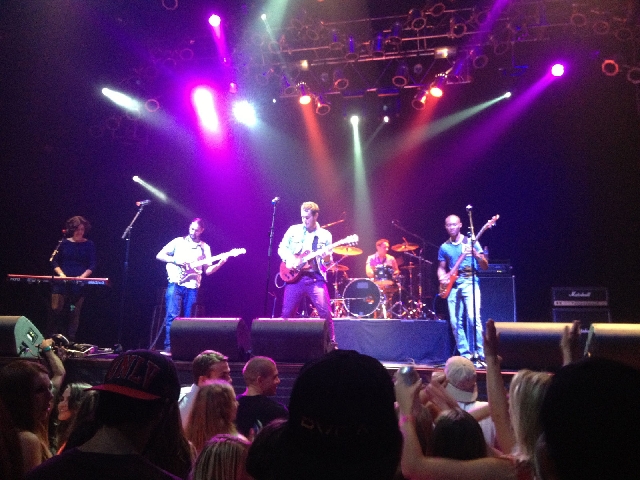 Local band Walk Off Hits headlined a House of Blues concert June 27 selling 150 presale tickets, and more than 20 tickets at the door.
This is the second time the band has played at the House of Blues at Mandalay Bay, although it is the first time it headlined the show.
Drummer Spencer Sasarita, who graduated from Boulder City in 2009, said members were able to play more of their original music than in their first show in 2011.
"This was the first time we played a lot of the songs live, so that was the main thing that was different between last time and this time," Sasarita, 22, said. "But I felt good about it. It was fun."
Guitarist and singer Ross LaMarca said the second time around at the House of Blues was easier.
"We knew what to expect this time so we were a little more confident, a little more organized," said LaMarca, who graduated from Boulder City in 2010. "Except I left my guitar in the car."
The crowd included nearly 50 Boulder City residents who drove the 25 miles to attend the all-ages show. Brian Miller, friend of the band, believes Walk Off Hits is on its way to fame.
"I've been a fan of Walk Off Hits since I've been friends with Ross," Miller said. "It's been quite the experience to see them from their beginnings to where they're at now. It's only a matter of time until Walk Off Hits is a commonly recognized band nationwide."
Mike Floyd, also a graduate of Boulder City, enjoyed watching his friends play Thursday.
"Walk Off Hits have come a long way since doing concerts at high school assemblies," Floyd said. "Their performance at the House of Blues showed they are capable of big things."
Boulder City graduate Jorja Murray admires the fact that LaMarca and Sasarita have evolved from high school jocks, both having played multiple sports for the Eagles, to showcasing their musical talents.
"I think it's really cool that Boulder City has so much talent," she said. "Not only do we have good athletes but talented musicians. It was awesome seeing people I went to school with performing at a venue that I've seen big bands at. I hope they become even more successful than they are now and popular worldwide."
The band has evolved from Friday Nite Jamz that would play at high school events, into the five-member Walk Off Hits.
The band sells its five-song 2013 debut recording, "The Love of the Game," on compact disc through theWalkOffHits.com website, as well as on iTunes and other popular online music stores.
"We're on iTunes, Spotify, pretty much any place online that sells music, we're there," LaMarca said. "It's available to a lot of people these days. It's a matter of putting the money up and doing it."
LaMarca met the other three members of the band at the University of Nevada, Las Vegas, where he is majoring in music education with a concentration in jazz guitar.
UNLV music students Cedric Robinson, bass; Helsey Harkins, keyboard; and Jarret Meyers, lead guitar, joined Sasarita and LaMarca in 2012. With the new members, their music genre took a turn.
"That's when we really shifted more toward a funkier, bluesy sound," LaMarca said. "It's pop rock, with elements of funk, blues, jazz, and rock 'n' roll."
Sasarita and LaMarca have been playing together since late 2010. Each comes from a musical background, so they decided to put their heads together and form Walk Off Hits.
In summer 2011, LaMarca, Sasarita and fellow Boulder City graduate Will Bauer went on national tour as a trio.
"It had always been a dream of ours to go on tour," LaMarca said. "I kind of just bit the bullet in early 2011 and said 'we're doing this right now. We're going on tour this summer.'  "
LaMarca self-booked the tour through emails and phones calls to venues across the country
"I only ended up getting us six gigs booked," he said. "We went all the way across the country to Cleveland. We had nothing but our equipment, Will's mother's van, a box of T-shirts and our pride."
The small band adventured to Cleveland, Chicago and Oklahoma City, as well as Nashville, Tenn., and Fort Worth, Texas. The tour ended in Las Vegas with their first House of Blues show. After the tour, the band members parted ways. LaMarca and Sasarita agree that the original band members never exactly "broke up."
The following school year, LaMarca had met the current band members and decided to bring Walk Off Hits back. LaMarca's father, Abe, who was active in the Cleveland music scene in the 1980s. co-produced the first album.
"When we finished the writing process, we demoed all of the songs in our studio with the help of local engineer Rion Rodgers." LaMarca said. "After about three weeks straight of recording, we ended up with a total of 13 tunes. As soon as they were finished, I brought them home to show my dad."
LaMarca said he went to Cleveland last summer to use some of his dad's connections to work on the album.
"My dad's longtime friend, Pete Tokar (a famous area music producer), was the first person I showed the tracks to," LaMarca said. "He ended up really digging the songs and offered to record and mix the album at his studio in Cleveland. We ended up finishing the EP in December of 2012. We had a lot of fire power behind our album and it was all because of my dad. I just used his connections."
Altough LaMarca wrote a majority of the songs, bass player Robinson helped on some songs. However, Sasarita is important to LaMarca's songwriting process.
"Spencer and I are always bouncing ideas off each other when we have the opportunity but for the most part I write the lyrics and the melodies," LaMarca said. "Then I bring it to the band and they make it awesome."
The band is trying to book as many shows in Las Vegas as they can.
"It's just a matter of building a fan base right now and just getting out there." Sasarita said. "That was a big reason why we wanted to do the House of Blues show … to actually play our new music for everybody, to keep them excited, and to tell people about us. Right now we're trying to get more shows in Vegas."
Walk Off Hits hopes to demo a new album at the end of this summer, and have a full album at the end of next year.
"Our biggest goal right now is to conquer Vegas … get Vegas under our belt, and once we create enough of a following," LaMarca said, "our hope is to be on tour next summer."