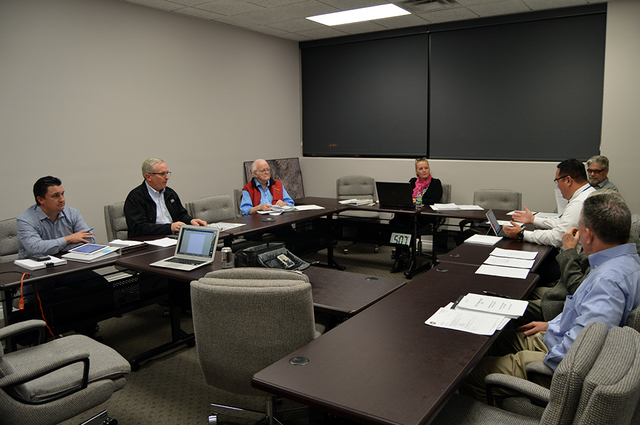 An independent audit of Boulder City found six issues in the way city officials handled accounting of government funds.
The problems were noted during an Audit Review Committee meeting Nov. 30; however, the audit also stated that these issues were not serious or malicious.
Completed by Las Vegas company Piercy Bowler Taylor &Kern CPA, the audit stated a number of finical documents were not consistently turned in on time under the watch of former Boulder City Finance Director Shirley Hughes. That same audit also stated that the mistakes made by city officials were fixable and not malicious.
According to auditors, a number of finical documents were not properly filled out or complete when the city turned in its finical statements for the audit.
"We need to make sure all of these documents are in and complete because it blurs the lines of what the auditors are auditing," Finance Director Hyun Kim said.
Kim said the best way to fix this problem is to have monthly financial closeouts as well an annual one.
"We are going to create a procedure for month-end closeouts and in addition we will also keep a paper log that either me or the chief accountant will have to sign off on."
Kim said that this matter was an easy fix that will be completed in 60 days.
The audit also noted that three bank reconciliations were not completed in a timely manner.
A bank reconciliation is the process of balancing a cash account to the corresponding information on a bank statement.
The report noted that while reconciliations were being completed, they were 60-90 days late.
"I had noticed that three separate bank reconciliations had not been completed in a timely manner," Kim said. "This process is going to take some time, but myself and (City Manager) Dave Fraser have already allocated staff to finish those bank reconciliations."
Kim said he plans to fix the problem by filing the reconciliations on a monthly basis, a plan that should put the city back on track and better protect it from fraud.
The audit report also noted that the city's process for adjusting utilities was not adequate. It stated there was no process for approving a change in a utility bill by someone in upper management.
"We noticed that there was not a proper process for adjusting and zeroing out a utility bill and that caused us to lose some very significant dollar amounts," said Doug Honey, the city's chief accountant.
Kim recommended fixing the problem by requiring employees to have any utility adjustments approved by someone in management and then keeping a log about what adjustment was approved and who approved it.
Kim said that this problem would be fixed in 60-90 days, but that catching up could take longer.
The final discrepancy noted in the audit also had to do with late filings.
The report states that Boulder City Municipal Airport has not been filing the proper paperwork for federal grants in time. The late reports inform the federal government of annual funds given to the airport. Kim said the reports were getting done but not nearly quick enough.
He said the problem should be fixed in 60-90 days as well.
"This grant money is important and we will make sure the reports are filed in a timely manner from here on out."
The committee has not set up a date for its next meeting but Councilman Cam Walker said that he hopes to have another meeting in two or three months.
Contact reporter Max Lancaster at mlancaster @bouldercityreview.com or at 702-586-9401. Follow him on Twitter @MLancasterBCR.