Annual Wreaths Across America ceremony pays tribute to fallen soldiers
December 16, 2015 - 4:48 pm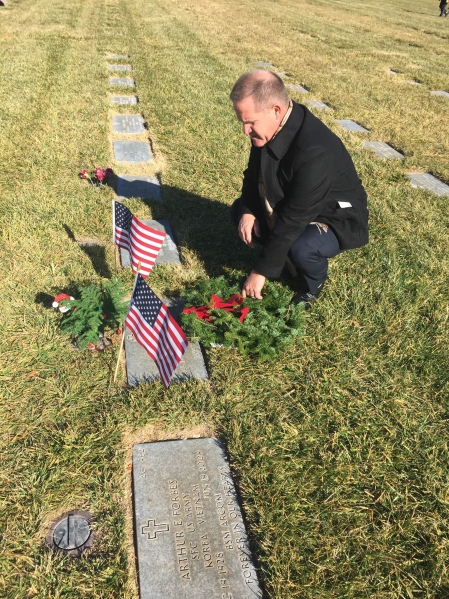 "To live in hearts we leave behind is not to die."
It's an age-old quote from Scottish poet Thomas Campbell, and his words couldn't have been more poignant for people in attendance at the Southern Nevada Veterans Cemetery on Saturday.
Residents, businesses, family members and fellow service men and women all paid homage to fallen veterans during the Wreaths Across America ceremony over the past weekend, with close to 500 in attendance.
The ceremony, which began with an idea by the Worcester Wreath Company in 1992 before officially being formed in 2007, is held to serve a simple purpose, according to its website: Remember. Honor. Teach.
In 2008, over 300 locations, 60,000 volunteers and 100,000 wreaths took part in the inaugural event. Last year, 700,000 wreaths were placed at 1,000 locations nationwide.
Dec. 13, 2008, was unanimously voted by U.S. Congress as "Wreaths Across America Day." The event is now celebrated on the second or third Saturday in December every year.
Boulder City has taken part in the ceremony during the past six years, with each year surpassing expectations.
"Every year it's gotten better," said Willette Gerald, deputy director of the Nevada Department of Veteran Services. "There's been many more wreaths and volunteers this year."
Veterans cemetery Superintendent Chris Naylor echoed those same sentiments.
"I've been here six years," Naylor said. "I think we had 80 people total at this ceremony six years ago."
Naylor said last year, 1,400 wreaths were donated for the event. At this year's ceremony, the cemetery received 2,529 — enough to cover nearly 10 percent of the roughly 26,000 current headstones.
Ceremonial wreaths — one for the six branches of the military as well as one for both Gold and Blue Star mothers for Prisoners of War and those Missing in Action — were presented and honored before the event speakers took the podium.
Lt. Gov. Mark Hutchison was a keynote speaker at the event, and expressed a deep appreciation for the ceremony and what it's meant to Nevada, a state with one of the largest veteran populations per capita.
"The holidays are a time to remember," Hutchison said. "These wreaths symbolize evergreen: never die, always living."
Adults, businesses and Boulder City residents weren't the only volunteers to donate to this day of remembrance.
Students in the National Junior Honor Society at Brown Junior High in Henderson donated 220 wreaths, nearly 10 percent of all donations, to the Wreaths Across America event in Boulder City.
"The experience of raising money for Wreaths Across America was very meaningful," said eighth grader Amber Robinson, president of the honor society. "This has made me want to do more things like this for not only our community, but also our country."
Suzy Sudweek and Jenifer Jepson, honor society advisers, said the school's initial goal was to send 30 wreaths, but money raised from local car dealerships, doughnut shops and students at Brown Junior High themselves far exceeded the honor society's expectations.
"I have relatives who are veterans and a cousin who recently finished his service with the Navy," said Chris Jepson, another eighth grader and vice president of the honor society. "Our fundraising efforts were personal for me as I wanted to honor them and their service to our country."
The ceremony lasted about an hour before volunteers were able to pick up a wreath and place it on a headstone in this year's selected sections of the cemetery.
As the ceremony came to a close, Victor Thomas, a retired Lt. Col. in the United States Air Force, gave his closing remarks, and uttered 10 words that sum up what message Wreaths Across America sends:
"As times change, the things that really count do not."
Contact reporter Randy Faehnrich at rfaehnrich@bouldercityreview.com or at 702-586-9401. Follow him on Twitter @RandyFaehnrich.