A new chief on the streets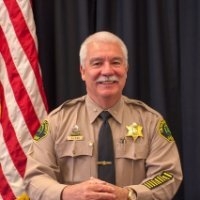 Tim Shea didn't know when he bought his 2008 Shelby GT at a Washington car dealership that the brand new, vista blue convertible would lead him to Las Vegas and eventually to Boulder City as chief of the city's police department.
The Shelby came with a pair of tickets to a NASCAR race in Las Vegas, 64-year-old Shea said as he sat next to the spotless car in a shaded folding chair at Saturday's Best Dam Car Show. Shea and his wife visited his cousin in Green Valley when they made the trip in 2009, visited a model home in Anthem and bought a house the same year.
Shea was born in Buffalo, New York, and lived there until he was 7 years old. His family moved across the country to San Diego where Shea had an "idyllic" childhood growing up in a 1,000-square-foot stucco-frame track house. He moved into a house of his own at 18 and enrolled at San Diego State University, where he and his friends learned about a program for full-time students at the local police department.
"Law enforcement wasn't really something I wanted to do — I'd never really thought about it," Shea said.
He wanted to be a forest ranger after working several summers as a camp counselor with the same cousin who would convince him to move to Henderson decades later. But he needed a job and couldn't pass up the police department gig, which gave him 30 hours a week and paid twice the minimum wage while he was going to school.
At 21 years old Shea was hired by the San Diego County sheriff's office and became the county's youngest deputy sheriff.
He moved to Seattle in 1981, following his parents who had moved to Washington in 1977. As the oldest of his siblings, Shea felt he needed to be closer to his parents in case he needed to take care of them.
Before he moved, though, Shea had to make a decision about the woman he had met at a police department picnic in Mission Bay. Although the pair had lived about 4 miles apart and went to the same elementary, middle and high schools at the same time in California, they had never actually known each other until a friend in the police department set them up at the department cookout.
When Shea decided to move up the coast, he knew he couldn't ask her to go with him as his girlfriend. The couple married in 1981, the same year Shea moved to Washington, and his bride followed him to the Evergreen State after he graduated from the police academy.
Shea was hired on as a patrol officer at the Seattle Police Department, where he worked as a SWAT officer in all four of the city's precincts for four years. In 1985 he became the "No. 3 guy" in the Snohomish County sheriff's office in Washington as the county's bureau chief.
During his time at the sheriff's office Shea was recruited into the Coast Guard reserves as a petty officer third class. He was activated immediately after 9/11 as on operations officer and sent to Iraq for five months and again in 2003 when he went to Kuwait and then Iraq and helped seize off-shore oil rigs to prevent them from being blown up and creating a massive spill.
Shea moved to Henderson in fall of 2013. His dad had died suddenly in 1998 from a rare liver cancer and his spry, 84-year-old mother has no medical issues and an active life of her own.
After making sure his mom was taken care of by family and friends in Washington, Shea took a job as supervising bailiff at the Las Vegas Regional Justice Center, where he helped the justice court develop its own deputies division separate from the district court's. He applied for the Boulder City police chief position in January and was selected May 17.
"I thought it was a long shot," Shea said of his decision to apply. "I'm not friends with anyone in the city — I don't know anyone."
But he and his wife rode their bikes up and down the city's streets over several weekends in spring and fell in love with the town, he said. After he applied for the police chief job he began attending city council meetings on a weekly basis and said he likes that the city is "not some big, huge bureaucracy" and that people can come to the meetings and speak their minds.
Regarding Bill Conger's controversy-tinged resignation, Shea doesn't know much more than what he's read in newspapers but said he has no secrets and holds his underlings to the highest ethical standards.
"We should be an open book," Shea said of working at a police department. "Sometimes we're our own worst enemy. We try to be so secretive, and why?"
He trusts that the city has taken the right steps to correct the shelter scandal and insists that the city continues on that path, he said.
"There's two kinds of wrong: There's those kinds of wrong where a person is trying to do the right thing and they make a mistake and we all do that. And yeah, sometimes we get our knuckles wrapped, but we move on," he said. "Then there are those people that do things with a black heart. Those people I have no patience with, and those people I will cut out like a cancer.
"If people try to put pressure on me to cover things up or things like that, then they've got the wrong guy," he said. "It's not me."
Yesterday was Shea's first day on the job.
As supervising bailiff at the Las Vegas Regional Justice Center, Shea made $97,183 in total pay and benefits in 2015, according to public salary records. His starting salary as police chief will be $122,713, according to city administrator Bryce Boldt.
"I don't need a job, I don't have a career to protect, I don't have a stepping stone I'm going to," Shea said. "I'm doing this because I really want to and I really like this community."
Contact Kimber Laux at klaux@bouldercityreview.com or 702-586-9523. Find @lauxkimber on Twitter.