Teen heads to national triathlon championship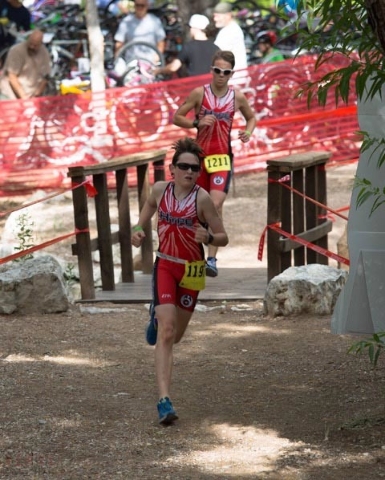 A four-year journey for 13-year-old Boulder City native Ethan Porter will be realized this weekend when he travels to West Chester, Ohio, with his team Hyperspeed to compete in a triathlon at the 2016 Youth Elite National Championships.
"I'm very excited to compete at nationals," Ethan said. "I've come a long way in the sport since I first started out. (I'm) excited to travel to a new set of scenery and compete."
Appearing in his first national championship, Ethan will compete Saturday in a race that will consist of a 200-meter swim, a 10-mile bike ride and a 2-mile run, a distance that could potential play an advantage or disadvantage for the rising triathlon competitor.
"Usually I compete in a longer course here locally (750-meter swim, 13.5-mile bike ride, 5-mile run), so it's taken me some time to … adjust to," Ethan said. "I like that the event is shorter because I feel like I will be more rested toward the end, but I have to make sure to keep a constant pace.
"My coaches have been working with me constantly to make sure I go all out."
Having the deck slightly stacked against him, Ethan has been placed in the 14-year-old age bracket because the competition goes by calendar year. Even with the slight change in plans, he said nothing is going to keep him from being upbeat about his opportunity.
"I'm actually excited to compete with the older kids," said Ethan, who will be an eighth-grader at Garrett Middle School this fall. "It's certainly going to be a challenge, but one I'm looking forward to. This can only make me better moving forward."
Having placed 35th individually in his event June 18 in a regional event in Monroe, Washington, to earn an invitation to the national competition, Ethan seems confident he can duplicate his performance in a field that will include the top runners from the United States, Canada, Mexico and Puerto Rico.
"It's going to be tough, but I think I can do it," he said. "As long as I can stay aggressive in each competition I should be OK. I really need to do well during my transition times, too, making sure I don't take too long getting from one event to the other."
He began competing in triathlons when he was 9 because it allowed him to combine two of his favorite activities: swimming and running.
Excited to make the trip with a trio of Henderson teammates, Ethan has credited his experience with Hyperspeed for preparing him for his first national since joining the team in April.
"I've really seen improvements in my technique since joining the program," he said. "Coach Ron Gallagher has really helped me the past few months prepare for big events. It's been nice to have him coaching me and my teammates pushing me to get better."
He also is looking forward to experiencing the cool weather of Ohio, with temperatures are expected to be around 85 degrees on Saturday, with a water temperature of 78 degrees.
"Usually I compete here in Nevada, so I'm really looking forward to the new area and weather," Ethan said. "I usually swim in cold water, so the water temperature shouldn't affect me too much. I will be looking forward to a breeze, hopefully though, during my biking and running events."
Ethan is the son of Lynette and Mike Porter.
Results of Ethan's race will be published in next week's edition of the Boulder City Review.
Contact Robert Vendettoli at BCRsports@gmail.com.