Sports roundup: Runners step up during first postseason test
October 19, 2016 - 1:47 pm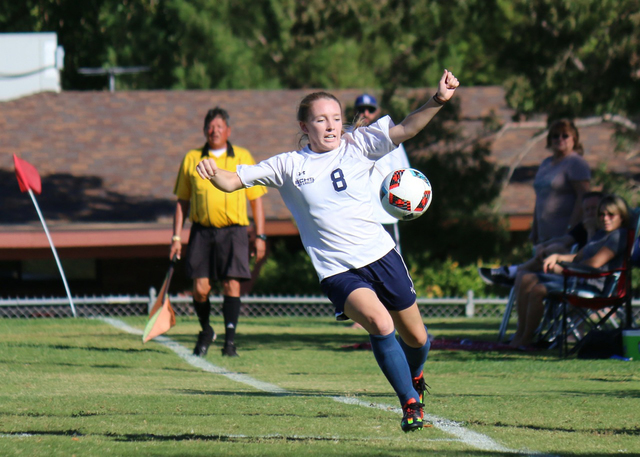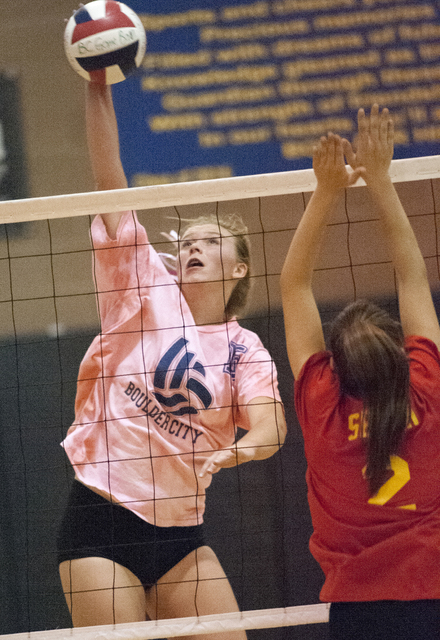 Claiming second-place finishes each at Saturday's Sunrise division finals, the boys and girls Boulder City High School cross-country programs stepped up their performances during their first postseason test.
Showing to be in postseason form early, senior Tyler Campbell led all runners with a time of 17:24.4 at Basic High School, guiding the Eagles to a team score of 52, behind only Southeast Career Technical Academy (27).
"I felt really good about the race and I'm happy with how I did," Campbell said. "I think the team did pretty well, too, but everyone is going to have to up their game a little bit at regionals in order to make it to state. I'm confident that we can make it, and I'm really looking forward to seeing what we can do at regionals."
Showing early signs of Campbell's request, junior John Krausman and senior James Embro finished in eighth and 15th place, respectively, with times of 19:31.4 and 20:15.1.
Rounding out the Eagles' efforts were senior Caleb Shamo (17th place; time of 20:22.5), junior Dawson Goodfellow (20th place; time of 20:44.8) and sophomore Noah Calvert (23rd place; time of 21:28.9).
For the finally back-to-full strength Lady Eagles, the girls finished second with an overall team score of 56, trailing only Southeast Career Technical Academy (19).
Finishing behind three Roadrunners, junior Sierra Selinger guided the Lady Eagles with a fourth-place finish with a time of 22:30.4, while senior Camilla Sartor finished in eighth place with a time of 23:02.3.
Juniors Lauren Stewart and Camille Torgesen finished in 12th and 13th place, respectively, with times of 24:17.3 and 24:17.5.
Rounding out the Lady Eagles' efforts, sophomore Brynlee Campbell placed 19th with a time of 26:10.1, while freshman Audrey Selinger placed 22nd with a time of 26:53.9 and junior Greta Bassano placed 27th with a time of 28:36.6.
With this week off, both programs will have plenty of time to prepare for their upcoming Southern Region finals Oct. 28, where they will look to qualify for the 3A state meet.
Football
Traveling to undefeated 4A program Durango on Friday, Boulder City High School's football team proved during its 35-0 loss to the Trailblazers that its still has a lot of growing pain to get through before it can be considered a turned around program.
While this season has been a slight improvement over last year, the Eagles' hard work came undone against a Trailblazers' offense that outgained Boulder City 311-24.
"Durango is really a class organization," Boulder City head coach Chris Morelli said. "It's very well coached and they executed their game plan perfectly."
Unable to stop Durango's rushing attack, Trailblazer running back Alhaji-Ibrahim Kamara rushed for 168 yards and three touchdowns against the Eagles, scoring on rushes of 49, 22 and 59 yards apiece
"Top to bottom they have speed that we hadn't seen this year," Morelli said. "They had play makers at every level."
Doing their best to try and muster up any offensive support against one of the state's best programs this fall, senior quarterback Michael Martinelli connected on 4-of-5 passing for 28 yards, while sophomore running back Thorston Balmer rushed for 19 yards on 11 carries.
The Eagles have one last chance to show improvement this season when they host Sunrise League champion Virgin Valley on Friday.
"Like every game we play, we are just hopeful to have a good showing and keep it close," Morelli said. "It's the last game of the season and were going to try and mix it up and throw the book at them with our play calling."
Boys Soccer
Earning their second league victory Oct. 13 against Virgin Valley, the Boulder City High School boys soccer program (2-8-1 overall, 2-5 conference) is currently in playoff contention, holding down the fourth seed in the 3A Sunrise League standings.
Storming past the Bulldogs 4-0, senior midfielder Sebastian Balmer led the way with two goals, while senior midfielder Hunter Dale and junior midfielder Patrick Hood each contributed one.
Having a tougher time with Southeast Career Technical Academy on Tuesday, the Eagles were taken down 4-1, but not without another goal from Balmer.
"We've seen a lot of improvement from this year's team," head coach Chad Smith said. "We been playing solid ball for a few games now and we're hopeful to continue it down the final stretch of the season."
Hopeful to stay in possession of a playoff berth, the Eagles conclude their regular season league slate at home against Del Sol today and on Monday against Moapa Valley, before traveling to Chaparral on Wednesday.
Girls Soccer
Running into the league's top two opponents this past week, the Boulder City High School girls soccer program (3-8 overall, 2-5 conference) fell victim to Virgin Valley 4-1 on Oct. 13 and to Southeast Career Technical Academy 4-0 on Tuesday.
Allowing four goals in each contest against the Bulldogs and Roadrunners, freshman midfielder Madison Manns was the lone Lady Eagle to contribute to the team's scoring efforts, chipping in a goal against Virgin Valley.
Leading the way now for the Lady Eagles in points (15), goals (6) and assists (3), the future is bright beyond this season, with Manns already showing she can contribute early on.
Currently in fifth place of the 3A Sunrise League standings, the Lady Eagles have a favorable matchup on the road at Del Sol today to put them into playoff contention, before wrapping up their season on the road at Moapa Valley on Monday and at home against current fourth seed Chaparral on Wednesday.
Volleyball
The Boulder City High School girls volleyball program (13-18 overall, 4-2 conference) is riding through a rough patch after losing to rival Virgin Valley 3-0 on Oct. 13, but is hopeful to rebound after more tough matches playing in the SoCal Invitational.
Falling to the Bulldogs 25-17, 28-26, 25-18, the girls are hopeful that an additional four losses to California programs Village Christian, Rancho Bernardo, Pacific Ridge and Foothill Tech all 2-0 will give them a reality check and help them snap out of their recent funk.
"The SoCal Invitational was rough, but it was really good competition for us," junior Maggie Roe said. "The teams there were really good; we had to play our butts off. Hopefully this will make us better."
Proving at least momentarily to be getting back on the right track, the Lady Eagles soundly defeated Southeast Career Technical Academy 3-1 on Tuesday, routing the Roadrunners 25-5, 23-25, 25-21 and 25-9.
Senior captain Alea Lehr led the Lady Eagles with 50 assists, while Roe tallied 25 kills, nine serving aces and four blocks. Seniors Lexi Bringle and Cortney Blumenthal had 16 and 12 digs apiece.
Looking to remain in at least third place in the 3A Sunrise lead standings, the Lady Eagles will conclude their regular season with a trio of league contests starting today on the road at Del Sol, before heading to Moapa Valley on Monday and at home against Chaparral on Wednesday.
Contact Robert Vendettoli at BCRsports@gmail.com.
Upcoming Games
Football
Today, at Durango, 6:30 p.m. junior varsity
Friday, at Durango, 7 p.m. varsity
Boys Soccer
Today, vs. Del Sol, 3:30 p.m. varsity; 5 p.m. junior varsity
Monday, vs. Moapa Valley, 3 p.m. junior varsity, 4:30 p.m. varsity
Girls Soccer
Today, at Del Sol, 3 p.m. varsity, 4:30 p.m. junior varsity
Monday, at Moapa Valley, 3 p.m. varsity; 4:30 p.m. junior varsity
Volleyball
Today, at Del Sol, 5 p.m. junior varsity; 6 p.m. varsity
Friday-Saturday, Volleyball championship, Green Valley
Monday, at Moapa Valley, 5 p.m. junior varsity; 6 p.m. varsity
Cross-country
Saturday, Southern division finals, 9 a.m.
Oct. 28, Southern region/league championships, Craig Ranch Park, North Las Vegas, TBA