Scorching-hot 17-run inning gives Eagles baseball team victory over Mojave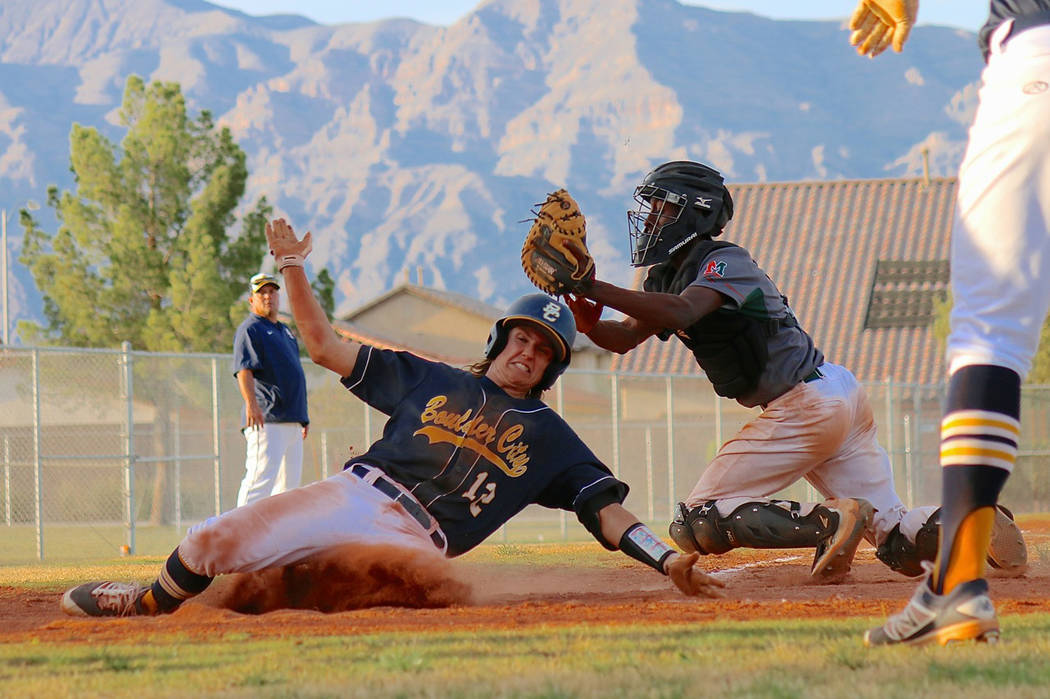 Erupting for 17 runs in the top of the fifth inning on Monday, Boulder City High School's baseball team pulled out a come-from-behind 21-7 victory over Mojave.
Trailing 6-4 to the Rattlers heading into the inning, the Eagles (3-5) rallied off 15 of their 20 hits, sparked by four RBI performances from senior Jake Hubel (2-for-4, two doubles), juniors Anthony Pacifico (3-for-4, two triples) and D.J. Reese (4-for-4, one double, one triple) and sophomore Sean Jones (3-for-3, one double). Even with the explosion on offense, head coach Bobby Reese wanted to put the team on notice after Monday's performance.
"Every team wants to beat us because of our success last year," Reese said. "All of our opponents have circled the date when they play Boulder City and right now we are not stepping up to the challenge. Seventeen runs in the fifth inning was nice but we should have never been behind in the first place."
Frustrated with his team's efforts, Reese noted that the team will have to overcome its problems offensively and defensively if it wants to return to the state tournament in May.
"Our offense is struggling right now," he said. "If you take away the one big inning we only had five hits total.
We have too many guys taking way too big of swings and not having a solid approach at the plate. We will continue to improve and I hope to be able to call our offense dangerous, but we are not there yet. I hope the momentum from that fifth inning carries into our next game."
Upset over the continued lack of focus defensively, the Eagles spoiled a solid outing on the mound from junior Rhett Armstrong, who struck out eight batters in three innings, but had five runs scored against him, all unearned because of errors.
"We had five errors today and we are not going to win too many games if we can't clean that up," Reese said. "We have the ability to be a very good defensive team, but we need to have a better mindset and take some pride in our work."
Doing well in relief, junior Teddy Lobkowicz earned the win after one inning, while D.J. Reese locked down the fifth inning.
Playing two games prior to Monday's outing, the Eagles defeated Western 10-0 on March 15, followed by a crushing 6-5 loss to 4A program Durango on Friday.
Pitching strong against the Warriors, Hubel earned the victory after striking out four batters in five innings, while senior Noah Higgins pitched well Friday against the Trailblazers despite earning the loss.
With the preseason coming to a close, the Eagles will travel to Sunrise Mountain with hopes of continuing Monday's offensive assault.
"If our swings are on and we are putting balls in gaps, then we will be unstoppable," Hubel said. "It's tough though not having the big hitters from last season. We going to need to make up for it with precision and consistency at the plate in order to win games."
Contact Robert Vendettoli at BCRsports@gmail.com.
Upcoming games
Tuesday, vs. Sunrise Mountain, 3:30 p.m. home varsity, away junior varsity
Wednesday, vs. Prairie View, Colorado, 3:30 p.m. home varsity