Lady Eagles softball team out to improve on last year's runner-up finish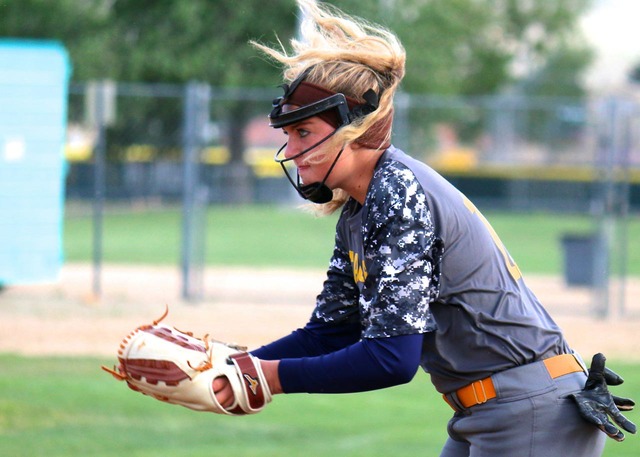 Finishing as last season's 3A state runner-up, the Boulder City High School softball program is out to prove this season that it's the classification's best.
"Our team had an awesome season last year, going 33-11," head coach Angelica Moorhead said. "I know our returners are hungry for a state title this season after second place left a hole in our hearts. We're hopeful to fill it this season."
Forced to replace one of the program's best players in current UNLV Rebel Charlie Masterson, Moorhead is confident that her returning starters mixed with a few new faces will be able to get the job done this spring.
"It's tough when you lose someone like Charlie Masterson leading us in the circle," Moorhead said. "We're fortunate enough though to have Bailey Bennett-Jordan stepping up this season, along with Jordan Moorhead, Micayla Gegen and Summer Coyle in the circle."
Of the Lady Eagles' pitchers, Bennett-Jordan will likely get the team's toughest starts after a promising sophomore campaign in which she compiled a 10-3 record with a 1.94 earned run average and 101 strikeouts in 72 1/3 innings.
"Bailey is extremely focused and ready to step up to the job, and I'm very excited for her," Moorhead said. "She played all summer and fall with her club group and put in her time. Bailey, along with our other three girls, will do great things for us."
Expected to lead the team at the plate, Bennett-Jordan returns to an experienced lineup that brings back five key contributors from last season's team.
Driving in runs when she's not striking out opposing batters, Bennett-Jordan gives the Lady Eagles a heavy hitter in the lineup. She hit .475 last season with 45 RBIs, six doubles, three home runs and two triples. Joining her as power hitters will be junior outfielder Jerra Hinson (.465, 36 RBIs, 13 doubles, seven triples, four home runs) and sophomore catcher Marlena Mills (.318, 35 RBIs, five doubles, one home run).
Rounding out the team's batting order will be junior shortstop Jordan Moorhead (.326, 14 RBIs) and junior second baseman Gegen (.286, 14 RBIs).
The Lady Eagles' path to a championship run got a little easier this season with powerhouses Faith Lutheran, Sierra Vista and Spring Valley all getting bumped up to 4A. Coach Moorhead, however, remains wary of the remaining teams.
"With the three big schools gone, of course, it plays to our advantage," she said. "Pahrump will be tough on the other side, as well as one or two on our own side. We just need to show up and play our game like we know how. We always stress one game at a time and continue to work hard for that big tournament in May."
Bennett-Jordan said she is hopeful to finish what the Lady Eagles started last season and bring a championship home to the community.
"It's not just a goal to get to state, but for my teammates, my coaches and my school, it's a goal to win a state championship representing Boulder City," Bennett-Jordan said. "The support our community gives us is amazing; they make our dreams feel like a step closer to reality."
The Lady Eagles will start their season today against Coachella Valley in the Colorado River Invitational, followed by a matchup with Western.
Contact Robert Vendettoli at BCRsports@gmail.com.
Upcoming games
Today-Saturday, Colorado River Invitational, Needles, California, TBA
Tuesday, vs. Cheyenne, 3:30 p.m. away varsity, at home junior varsity
Wednesday, vs. Western, 3:30 p.m. home varsity, away junior varsity.