Eagles hone their basketball skills under coach K's direction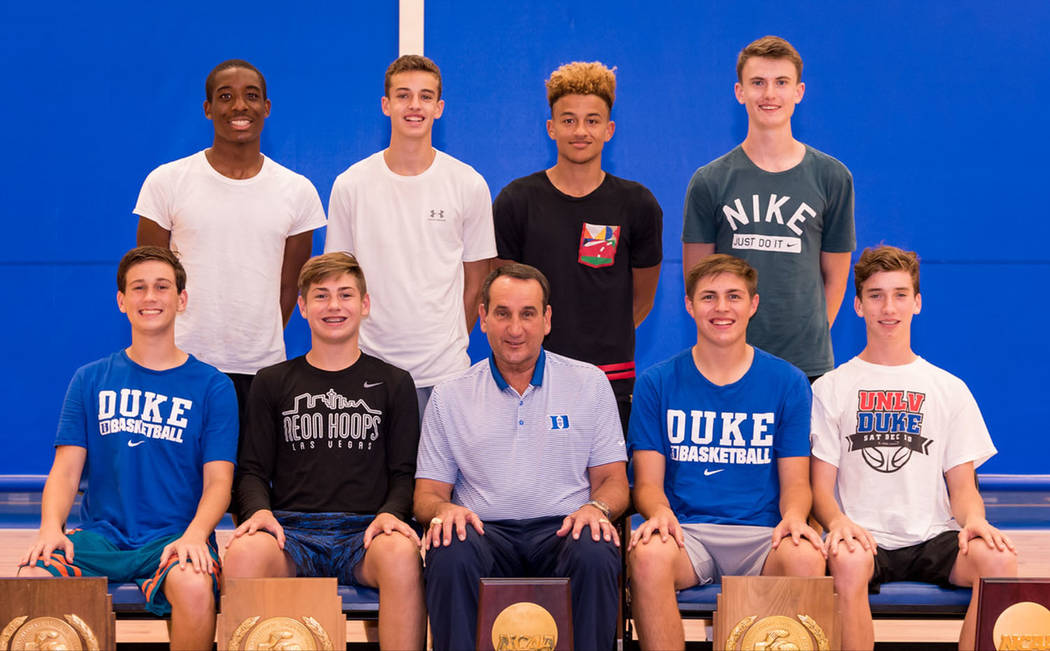 After 16 years of attending a basketball camp each summer, you might think that Boulder City High School head basketball coach John Balistere might get a little bored or tired of the same thing year after year.
Nothing could be further from the truth. In fact, this year's Duke Basketball Camp in Durham, North Carolina, was undoubtedly his most memorable experience.
"I've been going for the past 16 years myself, and it never ceases to amaze me the new things I pick up on each year," Balistere said. "Working alongside so many great coaches, not only do my players benefit from the experience, but I certainly do each year as well."
Making the Duke camp the staple of his summer program, Balistere said he was pleased with this year's experience, taking seniors Carson Balistere and Teddy Lobkowicz, junior Karson Bailey and sophomore Gavin Balistere with him June 17-21 to learn firsthand from one of college basketball's most well-known and winningest coaches, Mike Krzyzewski.
"The quality of coaching these boys get at camp is second to none," Balistere said. "Not only do you have Coach K helping out, but also several top collegiate and high school coaches from throughout the country. Every year we've seen our boys go in and come out better players."
More than just a tuneup for his star players, Balistere said the camp makes him a better coach as well.
"Going in each year, I always keep an open mind to new ideas, new concepts," Balistere said. "I'm always asking questions, trying to find out what works for other programs and try to implement their concepts into our program. While the boys go there to learn drills and get better, I'm trying to learn how to improve our program, our culture. No better place to do that than Duke."
Emotions ran high throughout this year's camp as the the Eagles said goodbye to a longtime camper and hello to a new star.
Attending the camp since he was 7 years old, senior Carson Balistere stepped foot in Durham for his 10th and final time with the Eagles, while Bailey made the trip with the team for the first time.
"It was definitely nice to have these four with us," John Balistere said. "It was emotional knowing this was Carson's last time, but we had a lot of fun like we always have and cherished the moment. I was excited he got to participate in the camp for the 10th year in a row, while it was also nice to bring a new camper in Karson. We had a good group this year, made a lot of memories."
Expected to lead the team one last season, Carson Balistere said time at the camp was like no other, especially knowing it would be his final experience and how great it was to attend with the team's new sharpshooter, Bailey.
"I wanted to end my camp experience with a bang, and we certainly did that," Carson Balistere said. "It was really fun to have all four of our players on the same team during scrimmages; we're really starting to build some chemistry. With Karson and Teddy this upcoming season, I think we can be deadly."
Bailey said he feels much improved after the Duke camp, hoping to turn his sophomore success into an even better junior campaign.
"It was a lot of fun being there with my teammates and just getting to play some basketball," Bailey said. "Playing basketball against good players always helps me improve because it allows me to better my basketball IQ and my decision-making. It also helps me to have better chemistry with my teammates when I play with them over the summer."
Hoping to put their newly enhanced chemistry boost to the test, the Eagles will travel to Foothill High School in Henderson this weekend to play three games against Bishop Gorman, Las Vegas and Valley.
The Eagles' first game is at 1 p.m. Friday against Valley.
Contact Robert Vendettoli at BCRsports@gmail.com.