BCHS baseball battles back for region title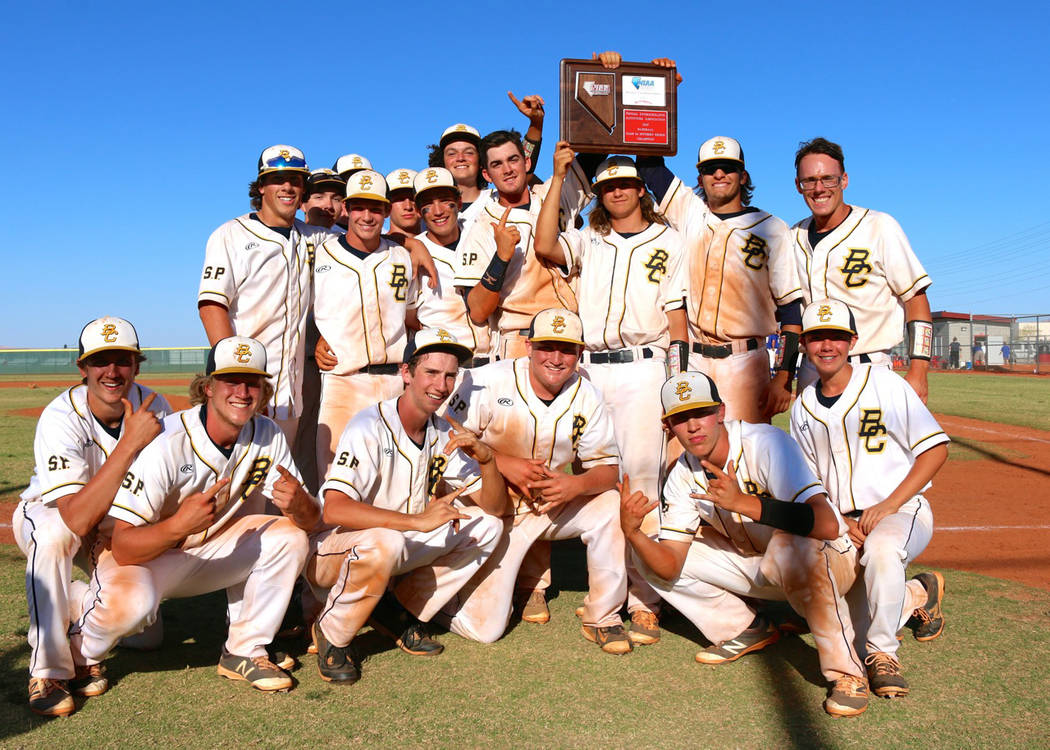 Boulder City High School baseball team is heading to its third consecutive 3A state tournament after coming from behind to knock off top-seeded Moapa Valley in the Southern Region championship.
Coming back from the losers bracket after losing to Moapa Valley on May 11, the defending 3A state champion Eagles defeated the Pirates twice 6-5 and 10-7 on Saturday to claim their second consecutive regional championship.
"It was very sweet to come from behind and knock them off," head coach Bobby Reese said. "We felt we gave them the first game we played, after making some key mistakes offensively and defensively. We knew if we put a couple of solid games together that winning two in a row was a real possibility. I'm very proud of this team and the job our coaching staff. It's a very big accomplishment to be repeat regional champions."
The Eagles were down 5-0 heading into the top of the fifth inning of game one of their doubleheader with the Pirates, before a six-run eruption forced game two.
Junior Teddy Lobkowicz (1-for-4) batted in one run, while seniors Jake Hubel (1-for-4) and Kodey Rahr (1-for-3) and junior D.J. Reese (2-for-3) all batted singles in the inning for RBIs.
"Up to that point we had runners in scoring position every inning but just couldn't get that timely hit," coach Reese said. "I kept telling the kids it was just a matter of time. Once we got the first hit, the rest just seemed to keep coming."
Ahead 6-5, the Eagles turned to senior Noah Higgins to close out the Pirates, who threw 1 2/3 scoreless innings of relief to earn the save.
Junior starter Rhett Armstrong had a solid day on the mound, allowing just one earned run off five hits while striking out seven Pirates.
Riding their game one momentum into game two of the doubleheader, the Eagles exploded for five runs in the opening inning and never trailed in the ball game.
Rahr highlighted the first inning with an RBI double while senior Nolan Herr, Hubel and Lobkowicz provided RBI singles.
Herr (2-for-3) drove in another run in the third inning with an RBI single, while Rahr (1-for-3) hit a sacrifice fly out to left field in the fourth inning. Lobkowicz (2-for-4) hit an RBI single in the fifth inning.
"We rely on our strengths, our guts, our resiliency to never giving up on ourselves," Reese said. "Our biggest strength is the ability to have different player step up when we need it most. We have had a different hero almost every big win. I won't lie and say this is our most talented team, but what they lack in talent they pick up for with a never-quit attitude."
With their sights on repeating as 3A state champions, the Eagles will face Northern challenger Elko tonight at 7 at Faith Lutheran High School. Senior ace Hubel will take the mound first, followed by Armstrong in game two.
"Our team is very excited that we have made it this far," Hubel said. "We want to prove the people wrong who thought we wouldn't survive. My arm is in top condition and I'm ready to give it my all. I am full of confidence in not just myself, but my team behind me on the mound. I have confidence that we can go all the way like last season."
Contact Robert Vendettoli at BCRsports@gmail.com.
Upcoming games
Today, vs. Elko, at Faith Lutheran, 7 p.m.
Friday, at Faith Lutheran, 1 or 4 p.m. depending on today's game
Saturday, at Faith Lutheran, 10 a.m., depending on outcome of Friday's game