Woman receives 60 days for role in burglaries
February 13, 2014 - 4:49 am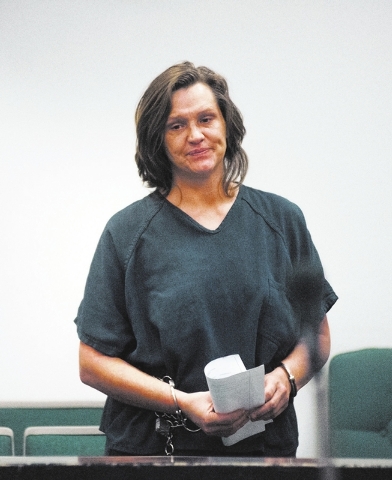 A local woman was sentenced to 60 days in Clark County Detention Center Tuesday for her involvement in several burglaries.
Alyssa Koligian, 39, was sentenced by Judge Victor Miller after pleading no contest to one misdemeanor count of possession of stolen property.
Miller of Boulder Township Justice Court gave Koligian credit for the month she had served since her Jan. 11 arrest.
Koligian and her son Andrew Koligian, 18, were arrested Jan. 11 at the Nevada Inn and were each charged with two counts of possession of burglary tools, a gross misdemeanor; and two counts of possession of stolen property, a misdemeanor.
The additional charges against Alyssa Koligian from the initial arrest and all charges against Andrew Koligian have been dropped, according to the district attorney.
However, on Monday the district attorney filed nine additional felony burglary charges against Alyssa Koligian in a new case. The district attorney alleges that she was responsible for burglaries at Sherman's House of Antiques, as well as residences on Esther Drive, Avenue H, Avenue B, Avenue D, Comanche Way, Date Street and Park Place.
After their arrest, the Koligians confessed to multiple burglaries, Boulder City Police Detective Sgt. John Glenn said.
"When we went to talk with her, they confessed to other burglaries which had not been reported," Glenn said.
On Tuesday, Alyssa Koligian's felony case was scheduled for a Feb. 25 preliminary hearing at Justice Court.
Alyssa Koligian remains in custody at the detention center, held on a $221,000 bail amount.
Police are confident that Alyssa Koligian was responsible for a rise in local burglaries that occurred in December and January.
However, since her arrest police have continued to receive burglary reports and have made one additional arrest.
Christopher Nolan, 28, was arrested Sunday. Police said they were led to Nolan, who confessed to multiple burglaries, by the Koligian investigation.
Nolan appeared for an arraignment Tuesday at Justice Court and is charged with one count of conspiracy to commit burglary, two counts of burglary, one count of grand larceny and one count of theft.
Nolan's justice court preliminary hearing also was scheduled for Feb. 25. He remains in custody at the detention center, held on a $53,000 bail.
Detective Scott Pastore said warrants were submitted to the district attorney last week for the arrest of two other suspects believed to be involved with three burglaries.
"We're going after one person after the other," Pastore said. "We're not trying to do a shotgun approach and going after everyone at one time."