Police seek to strengthen ties to community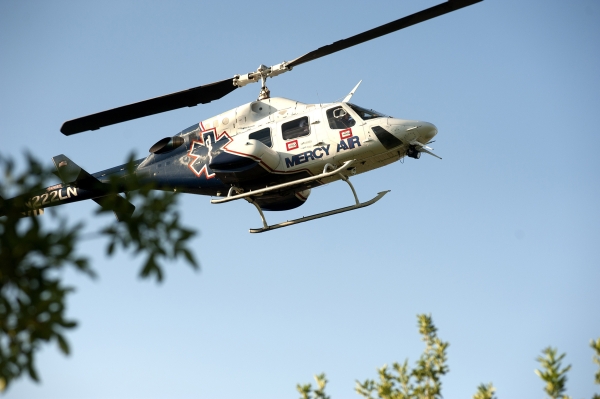 National Night Out will take over Veterans' Memorial Park on Tuesday evening as the Boulder City Police Department looks to meet with more community members to help keep the area safer.
The annual event, which began in 1984, is celebrated by 38 million people across all 50 states, U.S. territories, Canadian cities and military bases worldwide. Its message has been the same since the beginning: Heighten crime-prevention awareness by building stronger relationships between law enforcement and the community it protects.
Since its first year when 2.5 million people promoted its message, more communities across the country have come to recognize its importance.
Tuesday's event will take place from 6-9 p.m as members of Boulder City Police and Fire departments will be on hand to interact with the public. Members of the National Park Service, Hoover Dam Police, Metropolitan Police Department of Las Vegas, Nevada Highway Patrol and Mercy Air, among others also will be present.
"It promotes the message that your police department is here to help you and work with the people," said Boulder City Police Chief Bill Conger. "It helps the community to let them know about their police department and that we are there to help."
Conger has been a strong proponent of community policing since he became chief more than a year and a half ago. Events like National Night Out help build other programs his department has tried to bring back, he said, including a Citizens Academy and a Neighborhood Watch program.
"National Night Out gets people excited about those events," he said. "I think it's a bigger event in smaller communities. It's a huge event here."
About 2,500 people flocked to Boulder City's National Night Out last year, Conger said. Guests this year will be able to eat free food, play games, and enjoy water slides, jumpers and trampolines among other activities.
But the highlight of the evening is the annual Battle of the Badges softball game between the police department and the fire department. Conger said he's hoping his squad will be able to avenge last year's loss, which he described as a "good, down-home whooping."
"There's always that competition between the two agencies, but it's a friendly competition," he said. "We work with the firefighters, sometimes very closely, and that's important. Their guys know who we are, and we know who they are."
Chuck Gebhart, division chief for the Boulder City Fire Department, said the two departments have always had a strong relationship on and off the job.
"I think we've always had a good working relationship with our cops. We've been playing basketball and softball and anything you could think of with the police department," Gebhart said. "If we can play well together, we can work well together."
Like the police officers, Gebhart said Boulder City's firefighters are encouraged to go out and get involved with the community as well to keep the neighborhoods safer.
"We're in every business at least once a year anyway. Sometimes we just go out, drive around and stop to talk to people," he said. "I think being out in the community helps, and we encourage that."
Conger said he's happy as long as his department is doing its best to interact with the community, and National Night Out helps to strengthen that bond.
"I just want my officers to be out there with the people and be more personal with them because it helps to build that relationship," he said. "That's very important."
Veterans' Memorial Park is at 1650 Buchanan Blvd.
Contact reporter Steven Slivka at sslivka@bouldercityreview.com or at 702-586-9401. Follow @StevenSlivka on Twitter.