Police arrest man for growing, selling pot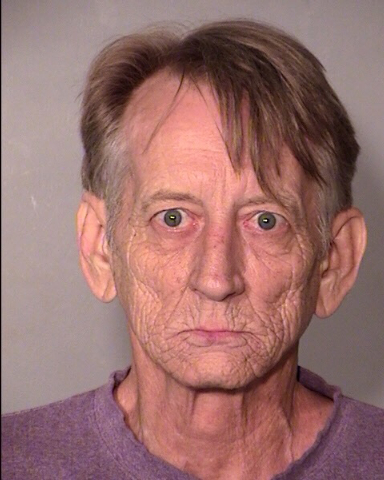 A man was arrested last week for selling marijuana grown in his Boulder City home, according to police.
Garry King, 62, was arrested Feb. 26 by a special Metropolitan Police Department task force, according to Boulder City Police. He was booked into Clark County Detention Center Feb. 27.
King is scheduled for arraignment Tuesday at Boulder Township Justice Court. He is charged with two felony counts of selling a controlled substance and two felony counts of transporting a controlled substance, the court said.
King, a medical marijuana patient, did not resist arrest, police said.
"He's not in much of a condition to put up a struggle," Boulder City Detective Sgt. John Glenn said.
More than 50 marijuana plants were found inside King's 1335 Saddle Lane residence, Glenn said.
Under Nevada law, medical marijuana patients are permitted to grow seven marijuana plants for personal use.
Clark County property records show that the house is owned by the Virginia Brooks Revocable Living Trust.
For a year Boulder City Police have been investigating King, who twice sold marijuana to a confidential informant, said Glenn, adding that one of the sales occurred in mid-2013.
However, other evidence, including surveillance, played a part in the investigation before obtaining a warrant issued by Boulder City Municipal Judge Victor Miller, Glenn said.
"The buys alone don't get us probable cause to get us into the residence," Glenn said. "We have to get other information to get us our probable cause, and that takes time."
King's neighbor Anthony Jennings, who moved into the neighborhood in January, did not know about the arrest, however, he said he was "not surprised" to learn that marijuana was allegedly being grown next door.
"We smell it all the time," he said.
Charli Powers, who lives a few houses away from King on Sorrel Road, said the arrest "sucks for the neighborhood."
"It's such a nice neighborhood," said Powers, who has lived in the area for 16 years.
The arrest came just one day after the City Council's Feb. 25 unanimous vote banning medical marijuana establishments.
Beginning April 1, medical marijuana patients will be required to purchase their marijuana from an establishment unless they live more than 25 miles from a dispensary or are physically unable to travel to a dispensary. There are 20 medical marijuana patients in Boulder City, according to police.