Night out highlighted by softball, proposal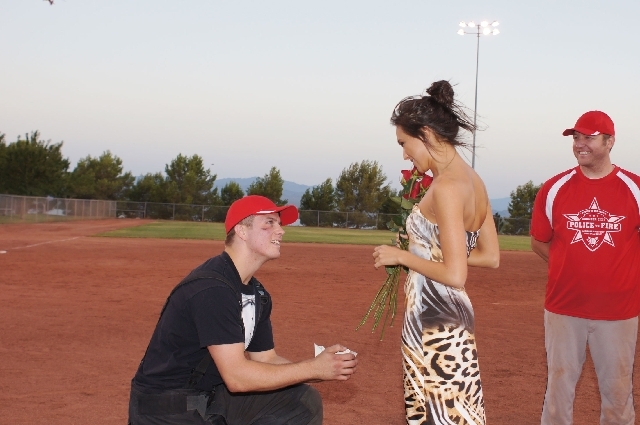 As expected, National Night Out at Veterans Memorial Park went off Tuesday with high-flying success. There was a great turn out of Boulder City residents that came out to support the police department in its awareness night. National Night Out is the police department's annual event to promote and establish a partnership with the residents of Boulder City in fighting crime.
Boulder City takes great pride in being "clean" and "green" as well as offering its residents a safe and sound place to call home. From the softball game to the K-9 demonstrations, it was a wonderful atmosphere for all to enjoy.
Over the years the police department/ fire department softball game has become the staple event of the evening. The game has proven to be a friendly competition that neither team takes lightly. This year, with the help of team members from the Henderson Police Department, the Boulder City Police were victorious and in a "walk off" fashion. And with a bitter taste in their mouth, thirsting for action, the firefighters relinquish their three-year run. There were home runs and blunders for all to enjoy.
The players from both teams were all smiles.
"It was an entertaining night, and we had a great turnout," said Walt West, a city paramedic/firefighter. "Everyone had such a fun time; it's exciting to see all of the residents come out and support such a great event."
The evening took a turn for the romantic, when firefighter/paramedic Mark McGovern proposed to his longtime girlfriend, Maria Garciabarna, on the field immediately after the game. In true fashion, and with a little help from the rest of the guys, firefighter McGovern got down on one knee and popped the big question in front of everyone.
She said "Yes!"
The night ended with a K-9 demonstration by the National Park Service. These are professionally trained and disciplined dogs. The dogs and their handlers showed the amazed onlookers just how smart and controlled their K-9 partners in crime really are. Lastly, the tug-of-war game, with the aide of all the children in attendance split amongst the two departments in a friendly competition.
Ironically, this game ended in a tie after the triple-braided rope broke in the middle. It should be comforting for most citizens of Boulder City to know how strong their firefighters and police officers really are!
It was a perfect August evening, kids running around playing games. Citizens, police officers, firefighters, council members, city employees, volunteers from the U.S. Army and Park Service all collaborate on one night to take a stand against crime, to take a stand for keeping you and your family safe.
The smiles and laughter weren't hard to find as people rejoiced in friendship, and as you looked around the park you couldn't help but get a sense of community and togetherness. Something unique and different about Boulder City that is rare and hard to find in a place you call home.
We, at the fire department, would like to thank you all, the citizens of this great town for all of your love and support you graciously continue to give us. Without you, none of this would be possible. We love working for you and this great city, and we do so with all of our hearts.
Brian Shea is a Boulder City paramedic/firefighter. If you have further questions about this or any fire safety issue, contact the Boulder City Fire Department at 293-9228.