Event promotes spirit of camaraderie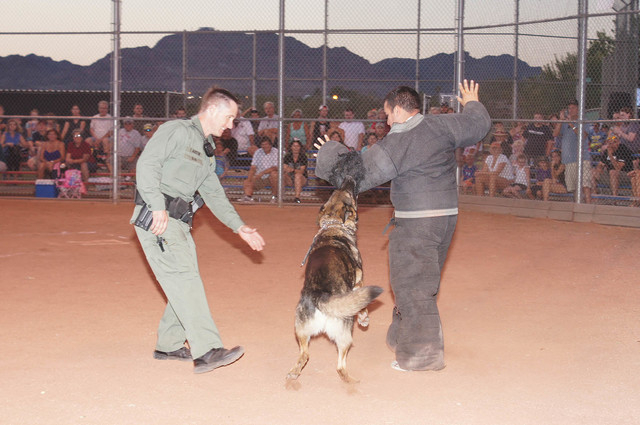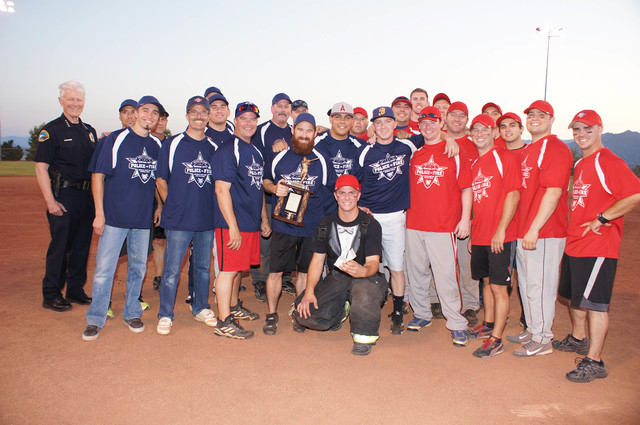 Police Chief Bill Conger knows all too well how community involvement coincides with safer neighborhoods.
After spending nearly 30 years with the Metropolitan Police Department in Las Vegas, Conger was tabbed as Boulder City's chief of police administration last year, leading him to look over a community with a fraction of the population that its neighbors over the hill have.
And with National Night Out right around the corner, Conger emphasized the importance of the bond between law enforcement and the community, and how its cohesiveness makes the area a safer place to live.
Boulder City will celebrate National Night Out from 6-9 p.m. Tuesday at Veterans' Memorial Park, 1650 Buchanan Blvd. The nationwide celebration helps members of local law enforcement get to know the members of the community they serve and protect in order to heighten crime-prevention awareness.
National Night Out is celebrated by nearly 38 million people from all 50 states, U.S. territories, a few Canadian cities, and military bases worldwide.
Conger said he noticed an immediate difference between the Boulder City environment and the Las Vegas environment when he first came to Boulder City.
"National Night Out here is a big deal. When I got here, I didn't realize how much interface the community likes to have with their policemen," he said.
Approximately 2,000 people made their way to Boulder City's National Night Out last year, but Conger said he expects more this year because of the signs posted around the city, from the top of the historical district arch across Nevada Way to City Hall.
National Night Out lets children sit in police cars, tour Mercy Air helicopters and talk to local police officers during the festivities. A rock climbing wall and water slide also will be at the park, and complimentary hot dogs and drinks will be provided by Albertsons, as well.
The celebration allows community members to see that policemen are just like everybody else, Conger said.
"National Night Out started to bring the police officers and the community together so the community could see that cops are just doing their job, and they really aren't bad guys," he said. "It allows them to see that cops have families, cops play baseball, cops go to the university, cops play golf. And it gives people the opportunity to see that."
Despite Boulder City's low crime rate, an event like National Night Out helps to keep those numbers down, and Conger said it's evident in other community events where thousands of people are in attendance.
"We have crime here occasionally, but it's not normally bad," he said. "A lot of that is because everybody here knows everybody."
Several other agencies will be on hand including the National Park Service, Nevada Highway Patrol and Metro's K-9 unit.
But the highlight of the evening is the annual "Battle of the Badges" softball game between the Boulder City Police and the Boulder City Fire departments.
The game will be preceded by a dedication ceremony of Field No.1 for Dan Leach, a longtime Boulder City resident and Metro officer who died while on duty in 2009. Field No.1 will be renamed Dan Leach Field.
The police department won last year's softball game, but Fire Chief Kevin Nicholson said the friendly rivalry between the two departments makes the night even better.
"With that camaraderie-type rivalry we have with the police department, it's a great opportunity to help them get out that crime-prevention message," Nicholson said. "I just think that by us supporting them, it's letting everybody see that police and fire work as a team, and I think that's a great message to put out."
Conger said he notices more people waving at him and his officers after National Night Out, and that's what the entire event is all about, in his opinion.
For Nicholson, he wants nothing more than to help the police in their efforts to keep the community safe. He would also love nothing more than to avenge his department's loss from last year.
"It's a fun evening, but whenever we get out on the softball field, we're hoping to beat them on their night," he said. "But I know those guys wanna beat us again."
Contact reporter Steven Slivka at sslivka@bouldercityreview.com or at 702-586-9401. Follow @StevenSlivka on Twitter.