Citizen's Academy provides realistic look at police officers' duties
November 11, 2015 - 5:49 pm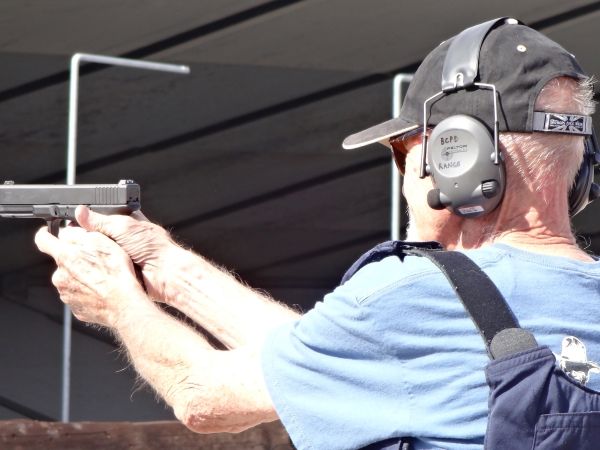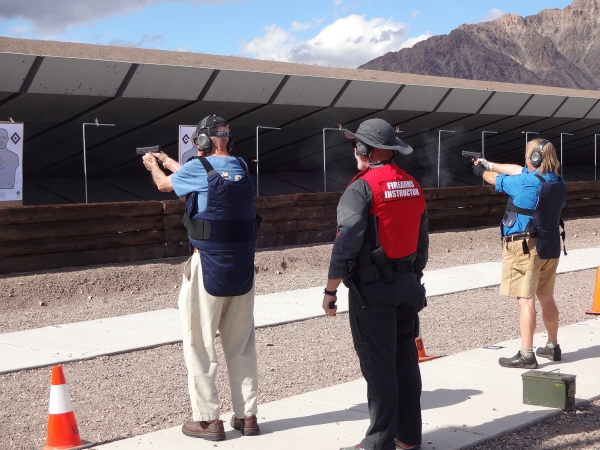 "Imagine you're a cop. Dispatch has informed you that a Toyota Rav4 heading northbound on U.S. Highway 93 has been reported as a possible DUI. It has Arizona plates. You spot it, track it, and hit your Code 2 lights. It pulls into the River Mountains Loop Trail parking lot. Adrenaline pumping, you pull in behind it."
You have been trained for this — well, sort of. You are attending the ninth of 15 scheduled classes for the Boulder City Police Department's 2015 Citizens Academy: "Traffic Stops." The scenario is pretend. Your sidearm is plastic.The driver of the Rav4 is a good guy (thank goodness), a player in the class exercise.
This Citizen's Academy began in early September. Boulder City Police's Tina Ransom, author of a Boulder City Review column, and Paul Daly, a training officer, have taken you and your dozen or so classmates through the program modeled after the actual police academy curriculum.
"You set the cruiser safety lights and spotlights as you have been trained. You run the plates. Backup has arrived. You cautiously approach the Rav4 driver's side; your backup has the passenger's side. Your flashlights strain to reveal the interior of the detained vehicle. You both have your hands hovering near your weapon."
Tonight's classroom training included not only how to safely approach a detained vehicle, but how to collect and analyze evidence at the scene of an automobile crash. The Citizen's Academy instructors are well aware that they are not preparing real police officers for the rigors of life as a cop, so they keep it light and entertaining. Still, the information is valuable and serious.
"You position yourself slightly behind the driver's side open window as your partner does his best to scrutinize the vehicle's interior from the passenger side. Highway traffic is racing past as you request the usual items: license, registration and proof of insurance. The driver responds with 'No hablo.' You give him the benefit of the doubt, summon up you very best Spanish and blurt out, 'Llave los manos!'
"All the classroom instruction, all the field exercises, and all the personal mentoring by Boulder City's finest boils down to you telling the detained driver to "Wash his hands!" You suddenly realize that you wouldn't want you as a partner!"
Ransom and Daly have brought you a long way. You have learned the history of law enforcement (from none other than Chief Bill Conger), you have handled firearms and controlled substances, and you have been immersed in simulated police involvements from bikini-wearing-bong-smokers to a very scary school shooting. You think you are ready for anything.
"The driver is still insisting that he doesn't speak English. Your gut tells you that something is wrong. A battle rages between your brain saying to 'stay calm' and your gut insisting that you 'draw your weapon.' Unexpectedly the driver's right hand disappears from your sight and reappears in a blur. A shot of adrenaline bypasses your brain and you seize your sidearm and draw.
"You feel ill in the pit of your stomach as the 9-millimeter jettisons from your grasp landing with a sickening thud and scrape on the gravelly ground.
"What did you really see?
"Your adrenaline dictates your reaction: Sometimes good people say very bad words."
Everyone's academy experience is unique. It might be as simple as if you are pulled over for any reason, always roll down your windows and keep your hands visible on the steering wheel. Or it might be as profound as I'm glad I chose another career; I would have made a lousy cop.
— Jim Sheldon is a Boulder City resident and participant in the 2015 Citizen's Academy. He can be reached at bouldercityjim@yahoo.com.