Tree recycling program called success
January 23, 2014 - 5:10 am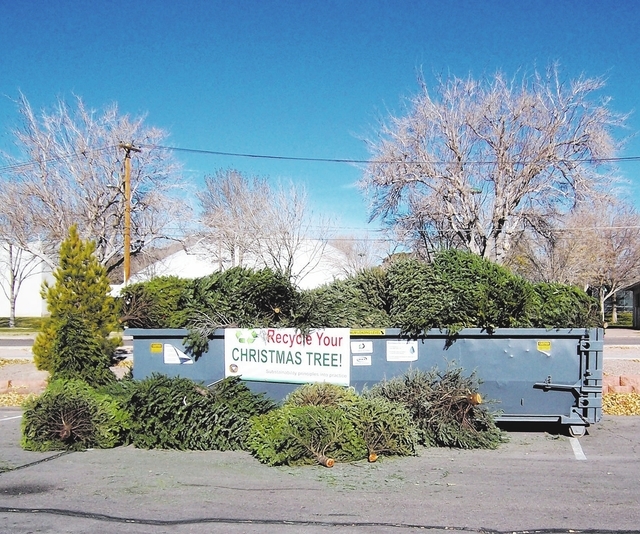 Boulder City received a late Christmas present from area residents: their participation in the first Christmas tree recycling program.
Scott Hansen, the city's public works director, said the program was very well-received.
"We estimate around 200 trees were recycled," he said.
Before the program started, Jill Craig, the city's environmental compliance coordinator, said she would be happy to see 100 trees recycled.
The recycling program aimed to help reduce the amount of materials going into the city's landfill, she said.
Once collected, the recycled trees were taken to Henderson by B.C. Waste Free, where they were chipped into wood mulch and used to preserve soil moisture, reduce dust and provide organic nutrients in local landscapes.
"Public works is very pro-recycling," Hansen said, noting the city's recycling efforts have the support of the mayor and City Council.
"We would like to get more (trees), but this being our first year, probably not everyone knew where to take them or how easy it is to recycle," he said.
A recycling station was set up in the parking lot of Bravo Softball Field, 891 Avenue B.
"The location was great, in the center of town, which also is the center of our residential areas."
In addition to collecting the organic material, dumpsters for other recyclable materials were placed in the softball field's parking lot. With Christmas and New Year's Day falling on Wednesdays, which is when the city regularly collects recyclables, area residents were able to drop off items instead of waiting several weeks to have them picked up.
"The recycling dumpsters out there were heavily used," Hansen said.
He said he hopes next year more people will participate in the Christmas tree recycling program. And he wants them to plan ahead, noting that trees with any type of artificial snow cannot be recycled.