Three file for vacant council seats
February 4, 2015 - 1:35 pm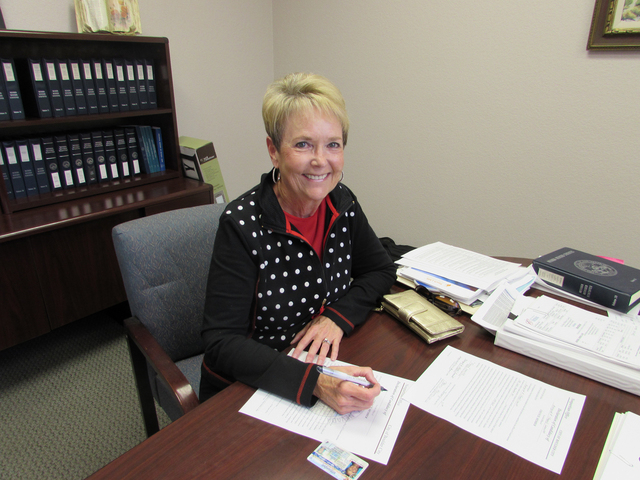 Voters will have a better idea of whom they can pick at the polls as time winds down for candidates to file for the upcoming City Council vacancies.
By the Boulder City Review's 1 p.m. Wednesday deadline, only three candidates had filed paperwork with the city to run for the council seats up for grabs.
Rich Shuman, who serves on the city's Planning Commission, and current Councilwoman Peggy Leavitt were the two candidates who filed for two seats on the council. Rod Woodbury, who also serves on the council, was the lone candidate to file for the upcoming mayor vacancy.
Term limits prevent current Mayor Roger Tobler from running for re-election.
Both Shuman and Woodbury filed for office Jan. 27, according to the city clerk's office. Leavitt filed for re-election Monday.
Each open position is for four years. All candidates must be a resident of Boulder City for at least two years immediately before the election.
Woodbury, 47, was elected to the council in the April 5, 2011, primary. He received 2,689 votes, or 31.94 percent of the 8,419 votes cast, the highest number of the five candidates seeking a seat on the City Council. Leavitt received the second-most votes with 2,449, or 29.09 percent of the votes cast.
Leavitt spent $22,435 on her 2011 campaign, according to her campaign contribution and expenses report filed with the secretary of state. Woodbury, who is seeking to become Boulder City's 16th mayor since 1960, spent $855 during his 2011 campaign.
If more than four candidates run for the two City Council vacancies or more than two candidates run for mayor, a primary will be April 7. If not, the general election is June 2. Any candidate who receives more than 50 percent of ballots cast during the primary will automatically be elected.
The filing period ends at 5 p.m. today.
Contact reporter Steven Slivka at sslivka@bouldercityreview.com or at 702-586-9401. Follow him on Twitter @StevenSlivka.