Leavitt will seek second term on City Council
January 21, 2015 - 2:14 pm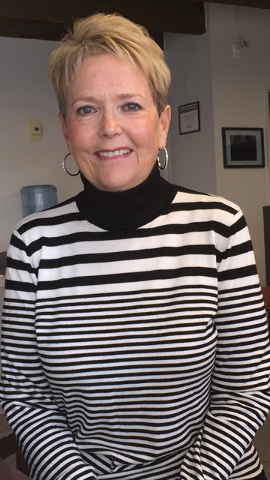 Boulder City Councilwoman Peggy Leavitt has announced her intention to seek re-election to the City Council, a seat she first obtained in 2011.
Leavitt discussed the important issues facing Boulder City, including replacing the city's outdated electrical infrastructure, and keeping the city's economy afloat after the Interstate 11 project is completed.
"It's something we've been working on for several years already," Leavitt said about I-11. "We're going to market Boulder City as much as we can and make it a destination. That's what we're going to have to do. Market it as a place that people want to come to."
Leavitt said she and other council members have been in talks for years with the Chamber of Commerce, the Economic Vitality Commission and several local businesses for their input. She said meeting with local business owners and receiving feedback for ideas has been one of her favorite parts since joining the council.
"Just seeing their vision and seeing how they want things to be in Boulder City … and how we can help them maintain their business when I-11 is built," she said. "I think we've been very proactive on that."
A few local business owners have shown concern about the city's proposed noise ordinance, which would severely hurt their business, they said.
Leavitt said she's done her research on the ordinance and has been in talks with Police Chief Bill Conger to help find a solution that would be beneficial for all parties involved.
"It truly is a balancing act because we love the fact that people want to come out here and listen to music and visit our local establishments. At the same time, you want to be a good neighbor," she said. "I think we'll be able to come to a resolution about that. I think the businesses that are involved want to be respectful and help each other throughout this process."
She also said she's read comments through social media that have been directed at the noise ordinance. More people seem to be complaining about barking dogs than the music, she said.
"You're never going to make everyone happy, but I think we'll be able to come to some kind of resolution that will work for most people's businesses involved. And that's certainly our aim," she said.
In addition to life after I-11, Leavitt said she would like to see more capital improvement projects completed. The city had been experiencing rough economic times that prevented work on those projects, she said, but the economy is starting to turn around, and the city is generating more revenue thanks in large part to solar leases.
Repairing the city's outdated electrical infrastructure is one of her priorities.
"That's something that's critical. A lot of them are very antiquated and it's dangerous," she said. "We could potentially have a blackout in our city that would last for hours, so we're trying to be proactive about that."
In addition to sitting on the City Council, Leavitt also serves on several boards, including those for the Senior Center of Boulder City, Lend A Hand, Nevada League of Cities, Friends of the Arts and Workforce Connections.
She said they've all benefited from her background in social work, and they've helped her generate positive change in Boulder City.
Leavitt said she also would like to see the city build a new aquatics center, as well as a new city center that would allow business owners to hold meetings that could host hundreds of people. It's important to look at the distant future instead of just the upcoming years, she said.
"I think the vision is not just to look at what's needed in the next two years, but to really look down the road and see where we need to be in 20 years," she said. "We can be smart and allocate that money where it's really needed."
She told the Boulder City Review she should be re-elected because she's conscientious about her job, and is always informed about what's going on in Boulder City.
"If they (residents) were to evaluate my job performance, they'll find someone who's been on the job who works hard for them," she said. "I'm a team player. I try to look at both sides of the issue and come to a fair decision about things."
Leavitt grew up in Wyoming and completed her undergraduate studies in sociology from the University of Wyoming in 1970. She came to Southern Nevada in 1972 and worked as a social worker at the Southern Nevada Children's Home in Boulder City. She earned her master's degree in marriage and family counseling from UNLV in 1982.
She and her husband, Charlie Leavitt, moved to Boulder City in 1984. They have four sons and 10 grandchildren.
Contact reporter Steven Slivka at sslivka@bouldercityreview.com or 702-586-9401. Follow him on Twitter @StevenSlivka.