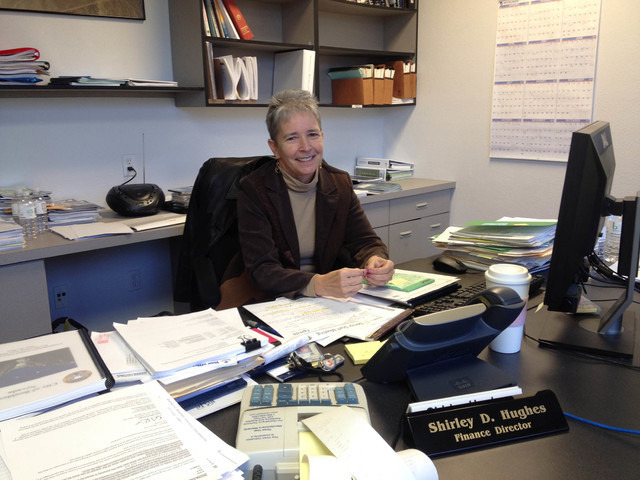 Two months after denying rumors that she was leaving, Boulder City's Finance Director Shirley Hughes has submitted her resignation.
Hughes sent her letter of resignation on June 27 and will leave the position she held for five years on July 31.
In her letter of resignation to Boulder City Manager David Fraser, Hughes writes that she is leaving her position for a city administrator job in Liberty, South Carolina. She starts her new job Aug. 1.
Hughes said in a statement to the Boulder City Review said that her reason for leaving was to move back to the East Coast, where she has previously lived and worked.
"I have accepted an invitation to return to South Carolina, where I previously worked and lived. As an East Coast native I am excited to have the opportunity to serve as the first city administrator for the city of Liberty, near Greenville," Hughes said. "I think this will be a great way to conclude my working career and am eagerly anticipating the challenge. I have enjoyed my time in Southern Nevada but am eager to embrace the lifestyle of rural South Carolina."
The most recent figures show the town's population at a little more than 3,200 people.
Mayor Rod Woodbury said that the city was lucky to have Hughes.
"It has been great to have Shirley here for the last five years," Woodbury said. "She is on to bigger and better things and we wish her the best of luck."
Hughes said she is happy with her work in Boulder City and is proud of the city's improvements.
"I have been working in city government for a long time and every city I go to I always try to leave it better off than when I got here," Hughes said. "It is a great feeling when you see how your work helps the community."
Woodbury agreed with Hughes' assessment of the city.
"We are much better off than before Shirley got here," Woodbury said. "Financially, technologically and in many other ways we are better off and I think we need to understand how lucky we were to have her with us."
Councilwoman Peggy Leavitt said Hughes was always a dedicated employee.
"Shirley was always available and very helpful with anything me or any of the other council members needed," Leavitt said. "She will be sorely missed."
Councilman Cam Walker said that Hughes's work will be felt positively in the community for years.
"Our city would not be in as good of a state as it is without Shirley," Walker said. " Thank you for making a difference and bettering this community. Your service is well-noted."
Despite the achievements she made, her time with the city hasn't been without controversy. A December audit revealed that more than $50,000 was missing from the city's utility fund and the attorney for a man fired in wake of the discovery blamed Hughes for the lack of accountability.
The audit by CPA firm Piercy Bowler, Taylor & Kern noted that "certain bank accounts were not being reconciled monthly" and there was no record of a timely review and approval process.
Earlier this year, Adam Levine, attorney for James Petrie, the utility supervisor who was fired and has since settled with the city for $50,000, said that auditors have been telling the city to change its reconciliation policy since 2011. Annual financial reports posted to the city's website show auditors identified deficiencies in the utility department's accounting every year since the fiscal year that ended June 2011.
The responsibility to follow auditors' recommendations and update reconciliation policies falls on the shoulders of Hughes and Fraser, Levine said. "Management has been ducking the issue" and "blowing off auditors" for five years, he said.
During her tenure with Boulder City, Hughes' salary and benefits jumped from $97,721, in 2011 when she worked for the city for eight months, to $186,320 in 2015, the last year records were posted, according to Transparent Nevada. This represents an increase of more than $75,000 in five years.
The city is currently looking for a new finance director, but no candidates have been named.
Contact reporter Max Lancaster at mlancaster @bouldercityreview.com or at 702-586-9401. Follow him on Twitter @MLancasterBCR.