Hearing on hospital demolition permit moved to planners' Oct. 21 meeting
September 23, 2015 - 3:47 pm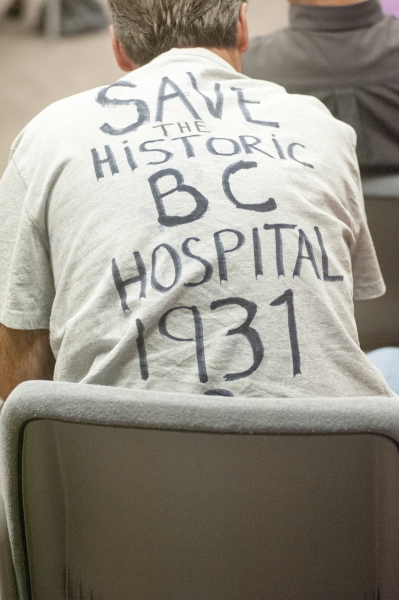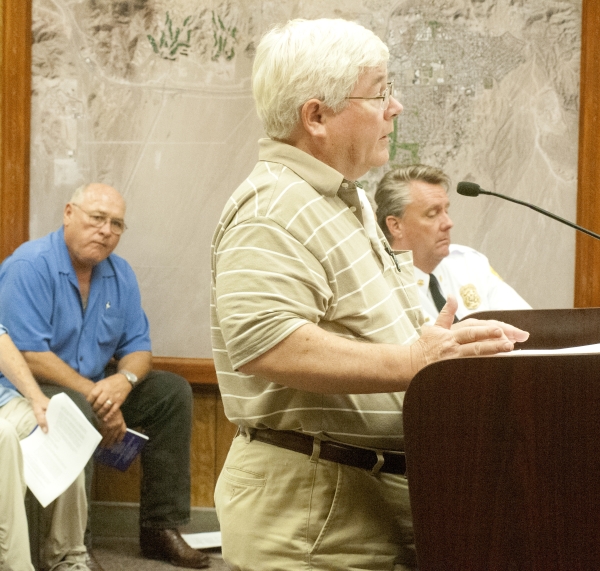 The City Council moved Tuesday to table a decision on whether the city lawfully granted developer Randy Schams a demolition permit for the old Boulder City hospital at 701 Park Place. The matter has been sent to the Planning Commission, which will consider it at its Oct. 21 meeting.
"It's the appropriate action and what should have been done in the first place," City Manager Dave Fraser said.
On Tuesday morning, representatives from the Historic Boulder City Foundation said they knew the appeal was being tabled, but still encouraged members to speak during the council's public comment session.
"Supporters are encouraged to speak to their concerns regarding the potential loss of the hospital," a post on the group's roughly 800-member Facebook page said.
After a brief City Council meeting of 35 minutes Tuesday evening, two members of the foundation took to the podium to voice their concerns.
Kiernan McManus, 58, expressed gratitude that the hearing was tabled to the Planning Commission, but said zoning laws should prevent Schams from being able to destroy an "important" building in Boulder City.
"I think it's very important that we look at what we want to promote in the city," McManus said. "There certainly should be an attempt to make the landowner whole, but also protect the important structures in this town."
Dale Napier, 61, said potential naturally occurring asbestos in the soil underneath the hospital should require extra testing before the building is demolished. He asked the City Council to require Schams to test the soil before proceeding.
"It's possible that construction on the property could pose a public health hazard to the entire neighborhood, even the entire community downwind from the project," Napier said.
Schams, who closed escrow on the property on Aug. 1, was not immediately available for comment.
By city ordinance, once a buyer closes escrow on a historic property, the city has 45 days to follow basic protocol, City Attorney Dave Olsen said earlier this month.
"Once someone is demolishing something that is considered a historic building, the city has to take pictures and provide some kind of a historical narrative if it can be obtained," Olsen explained. "We then have to encourage the property owner not to tear the building down. We also encourage them not to tear it down until a suitable property owner can be found."
The Oct. 21 decision will be strictly based on whether Community Development Director Brok Armantrout followed that protocol or not before issuing the demolition permit to Schams, Olsen said.
If not, the remainder of the 45-day time period, which froze from Aug. 31 to the Oct. 21 hearing date, will then continue and Schams will have to wait an additional two weeks before demolition.
If the city upholds Armantrout's decision to issue the permit, Schams can begin demolition immediately after the hearing, Olsen said.
Contact Chris Kudialis at ckudialis@reviewjournal.com or 702-383-0283. Find him on Twitter: @kudialisrj