Ex police chief Bill Conger charged with 'failure to perform duty;' charge stems to mishandling of animal cruelty case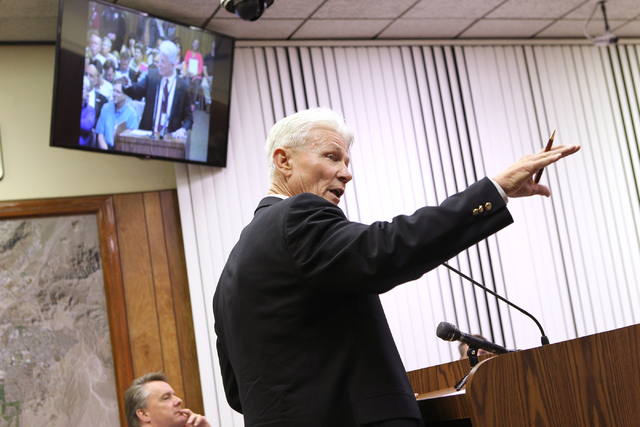 Former Boulder City Police Chief Bill Conger is scheduled to appear in court Tuesday after the state filed a complaint that he failed to perform his duty as a public officer in April 2015.
Boulder City court records show the misdemeanor charge filed April 6 by the Clark County District Attorney's office, "failure by (a) public officer to perform duty," is related to an offense committed April 30 of last year.
The state filed the complaint and motioned to issue a summons for Conger to appear in court in lieu of making an arrest. The court granted the request April 5 and the court scheduled Conger's court date the next day.
Conger's unexpected resignation in January was surrounded by controversy regarding the criminal investigation against former Animal Shelter Supervisor Mary Jo Frazier, who is accused of needlessly killing hundreds of animals.
Conger, who retired as deputy chief from the Metropolitan Police Department in Las Vegas in 2005, was employed by a California firm and given the title chief of police administration so he could maintain his retirement benefits. He started as temporary police chief in March 2013 and was appointed to the position permanently in September 2013.
As chief of police, Conger oversaw the city's animal control department.
Boulder City Detective David Olson told the court on Feb. 17 in a grand jury investigation of Frazier that Conger ordered him to end his investigation of the animal shelter's euthanasia policies and practices and leave his findings of missing money and drugs out of an affidavit.
"Defendant did direct police officer David Olson and/or Aaron Johnson not to submit a request for prosecution of Mary Jo Frazier for substantiated animal cruelty charges to the Clark County District Attorney," the DA's office wrote in its criminal complaint.
The complaint accused Conger of "willfully and unlawfully" neglecting to perform his duty as police chief, which "entails responsibility over criminal investigation as well as animal control within Boulder City."
The DA's office, the agency that issued the charges, said April 7 that it would not be commenting on the case.
"Our office has no comment on this at this time," the DA's office wrote in an email.
Conger is set to appear in front of Judge Victor Miller at 1 p.m. Tuesday for his arraignment, court records show.
"I can't comment on the case," Conger said the evening of April 7, deferring to his attorney, Tom Pitaro.
Pitaro didn't respond to multiple requests for comment.
Contact Kimber Laux at klaux@bouldercityreview.com or 702-586-9401. Find her on Twitter: @lauxkimber