City begins work on solar-powered parking structure
August 26, 2015 - 4:08 pm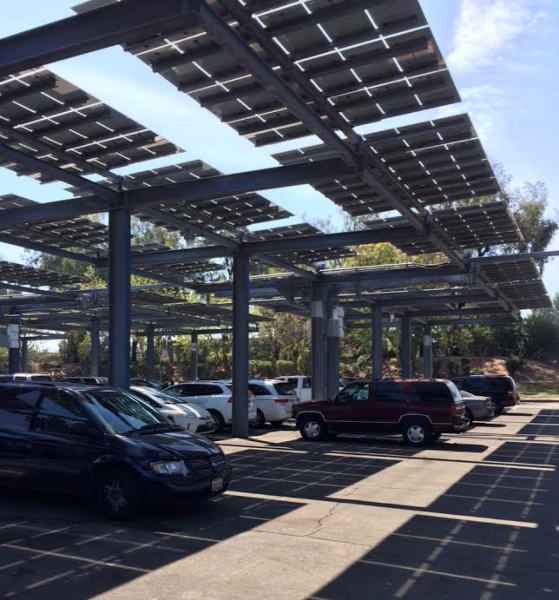 Boulder City is reaping the benefits of solar projects in the Eldorado Valley, but city officials are hoping a new smaller, local project will help the city lead the charge as the "solar capital of the world."
Construction on a new solar-powered parking structure is expected to break ground in October, according to Public Works Director Scott Hansen. The shade structure, to be situated in the City Hall parking lot, will include charging stations for electric vehicles and will generate energy at the same time. The energy will be fed back into the city's electrical grid system.
Hansen said the project, which will provide shade for 34 parking spots, is expected to be completed by February.
Funding for the project became available in 2011 when the city was negotiating with Sempra U.S. Gas & Power about the Copper Mountain Solar 2 project. As part of the agreement, Sempra wrote the city a check for $500,000 for the operation and construction of a solar facility within Boulder City, according to city records.
Hansen said it was important for Boulder City to have a solar project of its own, one that residents and tourists alike could take advantage of.
"As we were starting to get involved with all of these solar agreements, there was a lot of buzz in the public about, 'Why is the city not getting any of this power?'" Hansen said. "We need to have something in our downtown area if we're trying to be the solar capital of the world. What is there to come see? President (Barack) Obama comes here and he doesn't even come into Boulder City property. He's just down in the (Eldorado) Valley and leaves."
Hansen said the city will partner with the Chamber of Commerce to promote the solar-parking structure as an incentive for drivers to come into town once the Boulder City bypass is completed in 2018. Commuters can charge their electric cars in the middle of downtown Boulder City while they shop, eat and walk through the historic district, he said.
U.S. Sen. Minority Leader Harry Reid, D-Nev., released a statement about the importance of green-energy projects in Nevada just prior to the National Clean Energy Summit 8.0: Powering Progress, which took place Monday at the Mandalay Bay Convention Center in Las Vegas to discuss the status of clean-energy success across the country.
"Nevada has a meaningful opportunity to build on our progress and become the epicenter for clean-energy jobs and economic growth," Reid said.
Nevada leads the nation in installed geothermal energy and solar energy capacity on a per-person basis, according to Reid's office. The Silver State is also ranked third in the nation in utility-scale solar photovoltaic capacity and projects under development.
A bid for Boulder City's solar-powered parking project will be awarded Sept. 22, and the city is expecting it to cost between $250,000 and $425,000.
Hansen said he is hoping the cost of the parking structure will come in closer to $250,000 so the city can eventually build another solar facility. Once the parking structure picks up more steam, the city will add more charging stations, he said.
"You have to be doing it as a person who really wants to do your part to save the Earth rather than doing it for financial reasons," he said.
Lisa Briggs, director of government affairs for Sempra U.S. Gas & Power, was involved in the negotiations in 2011 that helped Boulder City get the funding for its own solar project.
"From the time we started developing solar, we wanted to know if there was any way Sempra could really help the city build a solar project," she said. "The city has always wanted to control its renewable-energy path forward. This sounds like a great project and allows them to expand their portfolio."
Contact reporter Steven Slivka at sslivka@bouldercityreview.com or at 702-586-9401. Follow @StevenSlivka on Twitter.