From ranch to city, woman finds husband of 62 years at gas station
August 22, 2013 - 1:03 am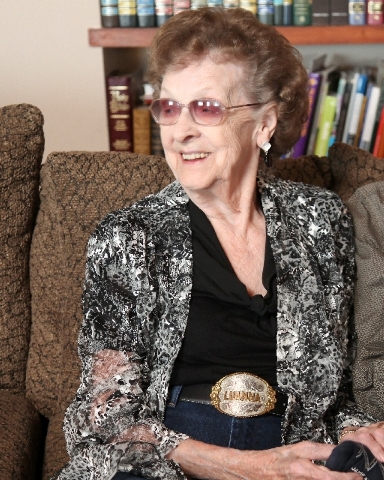 Services for longtime resident Luanna Mitchell are scheduled for 11 a.m. Friday at St. Christopher's Church in Boulder City. She died Aug. 5 at the age of 83.
Mitchell, who lived the past 23 years in Boulder City, was born in a small town in Oregon on Oct. 10, 1929. In 1944, her family moved to Las Vegas, where she met Carl Mitchell, 89, her husband of 62 years.
Luanna Mitchell had five children — four daughters and one son — 16 grandchildren, 46 great-grandchildren and three great-great-grandchildren.
Carl and Luanna Mitchell moved to Boulder City in 1990, where Luanna became active in the community. She opened and ran a crafts store for about 10 years.
She had long been interested in genealogy, and she got involved with the local chapter of the Daughters of the American Revolution.
She encouraged education for her daughters, at a time when that was not as popular as today. To honor her, the family in 2009 created the Luanna Mitchell Constitution Scholarship, which recognizes Boulder City High School seniors' essays promoting an understanding of the U.S. Constitution.
This excerpt was taken from a story written by Richard Lake in the Las Vegas Review-Journal.