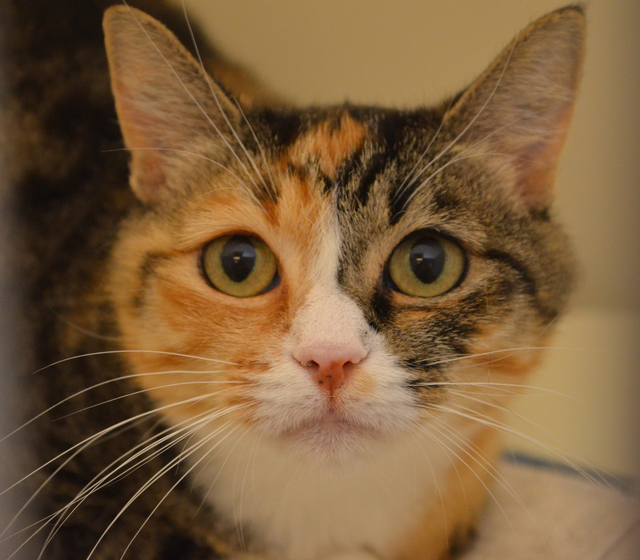 Car wash to raise funds for Bobcat cheer squad
A fundraising car wash for the Bobcat cheer squad from Garrett Junior High will be held from 8 a.m. to noon Saturday at the Elk's Lodge, 1217 Nevada Highway.
The cheer squad is trying to raise money to attend a three-day cheer camp, purchase new pom-poms, reduce uniform costs and show appreciation for school staff members.
Art Guild to honor top work Saturday at library display
The Boulder City Art Guild is exhibiting works by 20 local guild members in the community room at the Boulder City Library, 701 Adams Blvd.
The exhibit continues through July 10 and can be viewed during library hours.
A reception for the artists, who come from Boulder City, Henderson and Las Vegas, will be held from noon to 2 p.m. Saturday. Ribbons will be awarded for the works judged to be most outstanding. Light refreshments will be served.
Boulder City Art Guild is a nonprofit, all-volunteer artists organization with an office and gallery in the Boulder Dam Hotel.
Library schedules variety of activities, events
Boulder City Library, 701 Adams Blvd., has several activities planned for the coming weeks. These include:
n Super Why reading camp, 10 a.m. today in the community room. Presented by Vegas PBS for those 0-5 years of age.
n Lego challenge, 3:30 p.m. today in the community room. The session is designed for those 6 and older.
n Anime club, 3 p.m. Friday in the board room. For those in junior high school grades.
n Live animals with the Southern Nevada Water Authority, 9:30 and 10:45 a.m. in community room. Get personal with native Southern Nevada animals. Both shows will be the same.
n Toddler story time, 10 a.m. Wednesday in the board room. For children younger than 36 months and their caregivers.
n Writing workshop, 10 a.m. July 6. The four-week session is for children ages 8-16. Participants will create a variety of writing types including short story, drama, poetry, memoir and graphic novel. Space is limited. Register by Monday.
Note, the library will be closed Sundays through Labor Day.
Call 702-293-1281 for details, reservations or more information.
Lake Mead rangers to discuss desert plants at 'chat'
Lake Mead National Recreation Area has a variety of special events happening in the coming weeks. These include:
n Ranger chat: The Mojave Desert: A Magical Land, 11:30 a.m. and 1 p.m. Saturday and Sunday at the Alan Bible Visitor Center. Learn about the plants that live in the desert including the creosote bush, beavertail cactus and Joshua tree.
Call 702-293-8990 for additional information or to make reservations.
Saturday pub crawl to benefit Shane Patton foundation
The Dillinger Food and Drinkery will host its Shane Patton Pub Crawl on Saturday evening.
The event begins at 8 p.m. at The Dillinger, 1224 Arizona St., and concludes at 9:30 a.m. at Forge Social House, 533 California Ave., where there will be live music.
Cost is $30 per person, which includes a pub crawl T-shirt and drink deals at participating bars.
Proceeds from the event are used to provide several $1,000 scholarships to Boulder City High School seniors.
Patton was a Boulder City High School graduate who became a Navy SEAL. He was killed during Operation Red Wing when his helicopter was shot down during a rescue mission. That mission was featured in the book and movie "Lone Survivor."
Patton's friends and his father, Jeff Patton, who served as a Navy SEAL for 20 years, established a foundation in Shane's memory to celebrate his life and achievements, along with his sacrifice.
Hospital auxiliary seeks volunteers for gift shop
Volunteers are needed to work in Goldies' Gift Shoppe and in long-term care at Boulder City Hospital.
Anyone interested should contact the Boulder City Hospital Auxiliary by calling the hospital gift shop at 702-293-4111, visiting the gift shop or downloading an application on the auxiliary's page on the hospital's website at bchcares.org.
Worship on Wednesday adds monthly Taizé service
Boulder City United Methodist Fellowship and St. Christopher's Episcopal Church continue their weekly Wednesday night worship, or WOW (Worship on Wednesday), and will be adding a Taizé service on the first Wednesday of each month.
The Taizé service will include sung and chanted prayers, meditation, a period of silence and liturgical readings. There is no preaching.
The 6:45 p.m. service is held at St. Christopher's Episcopal Church, 812 Arizona St.
Traditional Wednesday worship is a combination of contemporary praise music, prayer and a short reflection. The Revs. Sandy Johnson and Jim Lyons lead worship with musical direction by Francyl Gawryn.
For more information call Johnson at 702-293-7240 or visit the fellowship's website at www.bouldercityumc.org or Lyons at 702-293-4275 or visit the church's website at www.stchristopherschurch.org.
Emergency Aid needs volunteers to help with operations
Emergency Aid of Boulder City, a nonprofit organization that assists residents of Boulder City and those who travel through the community, needs volunteers to assist with its operations.
Emergency Aid operates a food pantry and provides financial assistance to those in the community who are in need. It is open from 9 a.m. to noon Monday through Friday at the old Los Angeles Water and Power Building, 600 Nevada Way.
Volunteers are asked to work a minimum of three hours a week. There also are opportunities to help from your home.
Emergency Aid relies on volunteers, grants and private donations to operate.
For more information, call 702-293-0332 or email emergencyaid@lvcox.mail.com.
American Legion breakfast served Thursday mornings
All veterans and their families are invited to the American Legion's varied menu breakfast from 6-8:30 a.m. Thursdays at the American Legion Hall, 508 California Way, between Boulder Bowl and Grace Christian Academy. There is no cost to attend, but donations are welcome.
Legionnaires and eligible veterans are invited to the American Legion meeting at 7 p.m. the first Tuesday of the month at the hall.
For more information, leave a message at 702-294-6374.