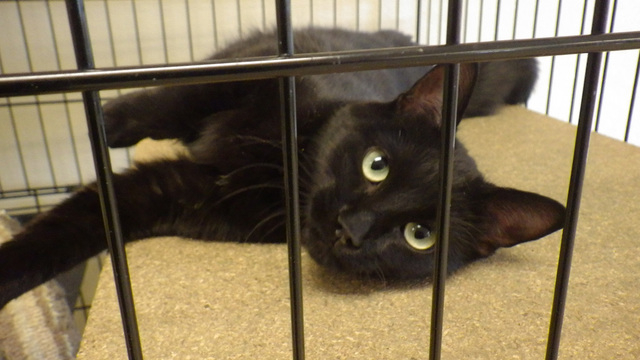 Woodcarver to share skills at Third Thursday program
This month's Third Thursday at the Museum will feature a program about woodcarving with Paul Stoutenborough. It is scheduled for 6 tonight in the Segerblom Theatre at the Boulder City/Hoover Dam Museum inside the Boulder Dam Hotel, 1305 Arizona St.
Stoutenborough was raised in a small farming town in Illinois, where he dreamed of becoming a carpenter. Following the advice of his father, he pursued a degree in business administration. Later in his career, he and his wife, Mary, decided to travel across the United States by volunteering with Habitat for Humanity and they helped build more than 30 homes for the nonprofit organization. After retiring in Boulder City, Stoutenborough honed his carving skills and will share his approach to carving 3-D figurines.
All interested people are welcome to attend. For information, call 702-294-1988.
Boulder City High alumni to meet for lunch today
The Boulder City High School alumni luncheon for March will be held at noon today at The Restaurant in the Boulder Dam Hotel, 1305 Arizona St. Graduates who have already held their 50th reunion celebrations are invited to attend.
Republican Women to hear Weather Channel founder
The Boulder City Republican Women will meet today at Railroad Pass Hotel and Casino, 2800 S. Boulder Highway, Henderson. The doors will open at 11 a.m. for a social period, followed by the 11:45 a.m. meeting and luncheon.
Guest speaker for the session will be John Coleman, one of the co-founders of The Weather Channel. He retired after 60 years working in the television industry. For more information, call 702-393-1228.
Ice cream social to help center's meals program
The Senior Center of Boulder City will complete its March For Meals campaign with an ice cream social from 3-5:30 p.m. Friday at the center, 813 Arizona St.
The event is a fundraiser for the center's Meals on Wheels program that provides hot meals and a welfare check for local senior citizens.
Tickets are $5 each and include a raffle.
Auditions Saturday for annual BC's Got Talent show
Auditions will be held from 9 a.m. to noon Saturday at Water and Power Building, 600 Nevada Way, for the annual BC's Got Talent show.
Acts of all types are being sought for the show, which will be held April 25.
Appointments to audition are required and can be made by calling Justin Keogh at 702-480-3615. There also is a $10 fee to audition.
Library schedules variety of activities, events
Boulder City Library, 701 Adams Blvd., has several activities planned for the coming weeks. These include:
n Graphics club, 3 p.m. in the board room. For junior high school students.
n Bedtime Math Club, 3:45 p.m. Friday in the community room. The program features hands-on math games. For children in kindergarten through second grade.
Note: The library will be closed Wednesday for staff development.
Call 702-293-1281 for details, reservations or more information.
Lend A Hand, Silver Rider offering shopping trips to Henderson
Lend A Hand has partnered with Silver Rider to provide rides to Henderson for its clients on the second and fourth Wednesdays of the month.
The two-hour shopping trips will be in the morning, with rides offered for a donation. This month the trip will be on Wednesday, with the bus traveling to Sprouts at 515 N. Stephanie St., and other nearby stores.
For more information or to schedule a ride, call Lend A Hand at 702-294-2363.
Retired Public Employees' monthly meeting set for March 26
The Boulder City chapter of the Retired Public Employees of Nevada will meet at 11 a.m. March 26 at The Homestead of Boulder City, 1401 Medical Park Drive.
Guest speaker will be Kelley Ferrence, owner of Right at Home, who will talk about in-home care and assistance.
Updates about actions of the Nevada Legislature also are planned.
A no-host lunch at a local restaurant will follow the meeting.
For additional information, contact Bernard at bernardpaolini@cox.net or call 702-294-0636.
Grace Christian Academy schedules open house
Grace Christian Academy, 512 California Ave., will hold its spring open house from 6-7 p.m. March 26, which is also the school's annual science and history night.
All interested people are welcome to attend to learn more about the school, view students' science fair projects, participate in science activities in the classrooms and learn about our country's history through first person presentations of famous Americans.
The school offers classes for kindergarten through sixth grade. Registration materials for the 2015-16 school year will be available.
For more information, visit www.gracechristianacademybc.org or call 702-293-3536.
Community Club's annual Trinkets, Treasures sale planned
Members of the Community Club will gather March 26 for their annual Trinkets and Treasures luncheon. The meeting will begin at 12:30 in the Multiuse Building, 1204 Sixth St.
Trinkets and Treasures is a fundraiser for the club; it is a sale featuring a variety of items brought in by members.
The club will provide pizza for lunch and members are asked to bring a dessert. For reservations, call Beverly Parry at 702-293-7623 after 1 p.m.
Free program at senior center to address 'Medication Management'
A program about "Medication Management" will be presented at 10 a.m. March 27 at the Senior Center of Boulder City, 813 Arizona St. This free presentation will deal with the interactions of over-the-counter and prescription medications.
Advance registration is requested. Call 702-293-3320 to register or sign up at the front desk at the senior center.
March 28 pancake breakfast will benefit Honor Flight
A pancake breakfast March 28 will raise funds for Honor Flight Southern Nevada, which takes veterans on all-expense-paid trips to Washington, D.C., to see war memorials.
The breakfast will be served from 8-11:30 a.m. at Red Rock Harley-Davidson, 2260 S. Rainbow Blvd., Las Vegas.
Tickets are $5 per person.
Additional donations can be mailed to 2190 E. Pebble Road, Suite 150, Las Vegas, NV 89002.
For additional information, visit www.honorflightsouthernnevada.org or call 702-749-5912.
Lake Mead to host Great American Cleanup March 28
Area residents are invited to participate in the Great American Cleanup March 28 at Lake Mead National Recreation Area.
Volunteers are need to help remove trash at the park. Each year more than 4 million volunteers in 20,000 communities nationwide take part in the event.
Anyone younger than 18 will need to complete a permission slip signed by a parent or guardian.
For more information, contact Nancy Bernard at 702-293-8714 or nancy_bernard@nps.gov.