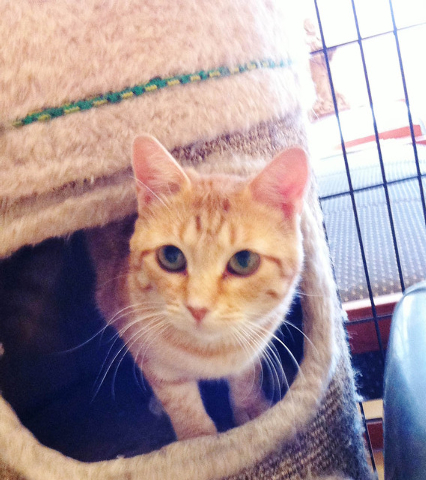 American Legion to learn about Concerned Veterans
The Boulder City American Legion Post 31 will learn about the Concerned Veterans For America Organization during its monthly meeting, scheduled for 7 p.m. Tuesday at the American Legion Hall, 508 California Ave.
The group's mission is to advocate for policies that preserve the freedom and prosperity veterans fought and sacrificed to defend. It is a nonpartisan, nonprofit organization founded by Veterans for Veterans.
Light refreshments will be served.
For more information, call the post at 702-293-6374.
Lend A Hand to present veterans benefits workshop
A workshop about veterans benefits will be presented at 3 p.m. Aug. 12 by Lend A Hand.
The session, "Protecting Yourself from the Costs of Long-term Care," will be held at the Boulder City Library, 701 Adams Blvd.
Kim Boyer, a certified elder law and Veterans Affairs accredited attorney, will present the workshop. Topics she will discuss include aid and attendance, the application process and how this benefit can help defray costs of assisted living and long-term car. Additionally, she will discuss advanced planning to help with eligibility, how an irrevocable trust can offer protection and new laws that make it more difficult to safeguard one's assets.
The class will count as a retraining for Lend A Hand volunteers. All interested people are welcome to attend.
For more information, call the Lend A Hand office at 702-294-2363.
Library schedules variety of activities, events
Boulder City Library, 701 Adams Blvd., has several activities planned for the coming weeks. These include:
n Martha Speaks Reading Buddies, 10 a.m. today in the community room. Vegas PBS presents the program to teach new words. For those 4-8. It continues each week through Aug. 7, with a certificate awarded to those who attend all classes.
n Lego challenge, 4-5 p.m. today in the community room. The session is designed for those 6 and older.
n Story teller Jim Cogan, 10 a.m. Friday in the community room.
n Teen movie, 1 p.m. Friday in the community room. "Ender's Game" will be shown. Bring blankets, comfortable seating and snacks.
n Craft, 1 p.m. Saturday in the community room. Paper flower bouquets will be made. The class is limited to 10 people. Reservations must be made by 8:30 tonight and a cash deposit is required.
n Motion of the Ocean story time and craft, 3 p.m. Monday in the community room.
n Preschool story time, 10 a.m. Tuesday in the board room. For children 3-5 and their caregivers.
n Movie, 2 p.m. Tuesday in the community room. "Robin Hood" will be shown. Bring blankets, comfortable seating and snacks.
n Toddler story time, 10 a.m. Wednesday in the board room. For children younger than 36 months.
n Game day, 1 p.m. Wednesday in the community room. Wii and board games will be played.
Call 702-293-1281 for details, reservations or more information.
Parks department schedules summer program for children
Boulder City Parks and Recreation Department is offering children in kindergarten through fifth grade a fun playground program this summer. Summer Parks will include activities such as field trips, arts and crafts, games, sports and special events.
The summer program continues through Aug. 22. Cost is $9 for a half day and $18 for a full day.
For details call 702-293-9256.
Lake Mead experiences temporary closure
Portions of Wetland Trail in Lake Mead National Recreation Area are temporarily closed through October during the construction of a grade control structure in the Lower Las Vegas Wash.
The trail head and parking area on Northshore Road along with adjacent areas will be closed to access, hiking and other recreational uses.
The grade control structure will reduce erosion in the Las Vegas Wash to protect the stability of the bridge.
It also will reduce sediment transported from erosion in the wash into Lake Mead, as well as protect Lake Las Vegas Dam and outlet works.
American Legion seeks preferences for blood drive
The American Legion of Boulder City is planning to hold a blood drive in September or October. To determine the best day and time for the event, post members are requesting that interested donors contact them by telephone at 702-293-6374 or email at BCPost31@embarqmail.com to state their preferences.
In addition to stating what time or date would be ideal for making blood donations, the post is asking potential donors provide their name and contact information.
For questions about blood donor eligibility, contact the American Red Cross at www.redcrossblood.org or call 866-236-3276.
Hospital auxiliary seeks volunteers
Volunteers are needed to work in Goldies' Gift Shoppe and in long-term care at Boulder City Hospital.
Anyone interested should contact the Boulder City Hospital Auxiliary by calling the hospital gift shop at 702-293-4111, visiting the gift shop or downloading an application on the auxiliary's page on the hospital's website at bchcares.org.
Writers group meets every Thursday at library
The Boulder City Writers Group meets from 7-8:20 p.m. each Thursday in the community room at Boulder City Library, 701 Adams Blvd.
Writers of all levels are welcome to attend to learn more about writing and receive feedback on their work.
Membership is free.
For more information, email jenballif@gmail.com.
American Legion breakfast served Thursday mornings
All veterans and their families are invited to the American Legion's varied menu breakfast from 6-8:30 a.m. Thursdays at the American Legion Hall, 508 California Way, between Boulder Bowl and Grace Christian Academy. There is no cost to attend, but donations are welcome.
Legionnaires and eligible veterans are invited to the American Legion meeting at 7 p.m. the first Tuesday of the month at the hall.
Call Cmdr. Gregory Hall at 702-293-6374 for more information.
Support group helps family of those with breathing problems
Area residents are invited to attend the Friends and Family of Chronic Obstructive Pulmonary Disease support group. The group meets at 10 a.m. the third Wednesday of each month at the Senior Center, 813 Arizona St.
Bruce Borchard of Vital Care leads the group, which explores ways for better living with COPD, asthma and emphysema. It is sanctioned by the Better Breathers and American Lung Association.
Walking group meets at Veterans Park
Boulder City United Methodist Fellowship has a walking group that meets at 7:30 a.m. Monday, Wednesday and Friday at Veterans' Memorial Park, 1650 Buchanan Blvd. Group members walk 30 minutes before they begin their day. Everyone is invited to come out and improve their health and make new friends. They meet at the duck pond next to Pratte Field. For more information, contact the Rev. Sandy Johnson at 702-293-7240 or email sandy_L_johnson@hotmail.com.
Association of University Women local branch to meet
The Boulder City Branch of American Association of University Women meets at 7 p.m. the third Monday of each month in the Boulder Dam Hotel, 1305 Arizona St.
Meetings are open to the public and held in the Gene Segerblom meeting room.
Support groups help with memory loss, dementia
The Homestead at Boulder City is offering its Alzheimer's support group, memory loss support group and dementia workshops on the third Thursday of each month. The groups will meet in the library at The Homestead, 1401 Medical Park Drive.
The Alzheimer's group meets from 11:30 a.m. to 12:30 p.m.; the memory loss group meets from 1-2 p.m.
There is no cost for these workshops and refreshments will be served. Those attending are welcome to bring a loved one, who will be cared for during the meeting.