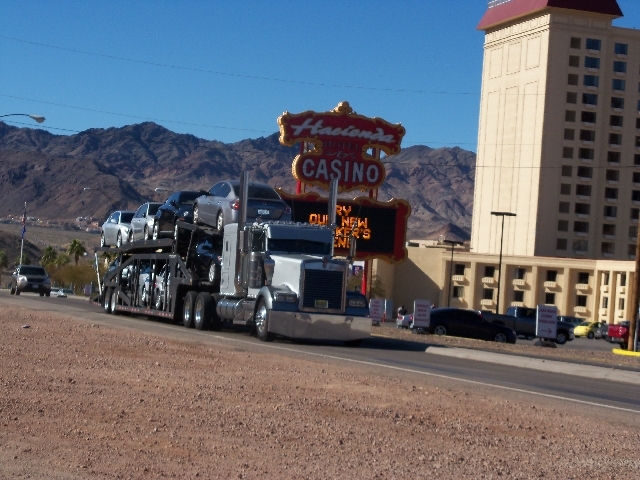 The Hacienda Hotel and Casino is being sold, the employees were told in a meeting Thursday.
The buyer is Dotty's, which owns a series of casino taverns operating under restricted and nonrestricted gaming licenses in Nevada. The company also operates a slot route including slot machines inside many Food 4 Less stores.
It is not clear if Dotty's is acquiring the operations of the Hacienda's 19,000-square-foot casino, or the entire property which would include the 370-room, 17-story hotel tower, restaurants, meeting space, gift shop, and the Lakeview Cinemas.
The sports book has been operated by William Hill Race and Sports Book since June of 2012.
When the deal closes later this year, it would be Dotty's largest casino and first tied to a hotel.
Kathy Hernandez, general manager of the Hacienda located between Boulder City and Lake Mead on U.S. Highway 93, has not returned a request for comment.
The employees were told they would have to reapply for their positions, but the property would remain open during renovations.
The deal is expected to close by the end of the year, according to various people familiar with the meeting.
The acquisition requires the approval of the Nevada Gaming Control Board and the Nevada Gaming Commission.
Dotty's, which is owned by R. Craig Estey, declined comment at this time.
The Hacienda is owned through a partnership between Michael Ensign, William Richardson and David Belding, son of founder and Boulder City businessman Don Belding.
The owners first talked of selling the Hacienda in 2003, but no buyer ever materialized. The Bureau of Land Management tried to acquire the property in 2004,
The former Gold Strike was renamed the Hacienda after a fire in June 1998 destroyed the casino, but not the hotel. The renamed property opened in November 1999.
The property sits on 11 acres on the north side of U.S. 93 on the road to Hoover Dam and the Mike O'Callaghan-Pat Tillman Memorial Bridge.
The Hacienda also owns 21 acres across the street, currently occupied by a gas station. The area is a popular stopping area for tractor-trailers.
The 33 acres are is bordered by federal land, including Lake Mead National Recreation Area, which has tried to acquire the property for seven decades.
The casino sits nearly two-and-a-half miles south of Boulder City, which does not allow gaming within it city limits. However, many of its nearly 250 employees live there.
THIS IS A DEVELOPING STORY. PLEASE CHECK BACK FOR UPDATES.