Plane makes emergency landing at Lake Mead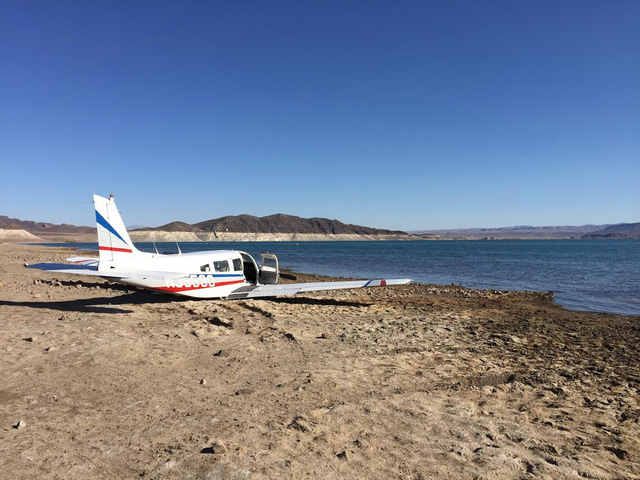 Four people suffered minor injuries after a small plane made an emergency landing inside the Lake Mead National Recreation Area this morning.
Lake Mead officials said they received a call at 5:18 a.m. about a small, fixed-wing plane that landed at Special Events Beach, approximately 3 miles northwest of Hoover Dam.
According to McCarran International Airport spokesman Chris Jones, the 1979 Piper PA-32R-301, also known as a Cherokee 6, left the North Las Vegas Airport shortly before 5 a.m. en route to El Paso, Texas.
According to National Park Service spokeswoman Christie Vanover, one of the passengers told her they were flying over the east side of the Boulder Basin when the engine stopped running. The pilot then decided to circle back toward Boulder Beach because he knew it was a flat area, she added.
The plane made a belly landing on the beach between two portable restrooms, the park service said. Vanover said the three passengers were women in their 20s headed back home to El Paso.
The Park Service, Clark County Fire Department, Las Vegas police and the Federal Aviation Administration all responded to the scene, and the National Transportation Safety Board has already reviewed the incident.
The four people on board were treated at the scene.
"They were really grateful to be alive," Vanover said.
A portion of the beach is closed as the investigation continues.
Contact reporter Steven Slivka at sslivka@bouldercityreview.com or 702-586-9401. Follow him on Twitter @StevenSlivka.