Shirley, Wayne Putz honored by city
December 12, 2013 - 5:10 am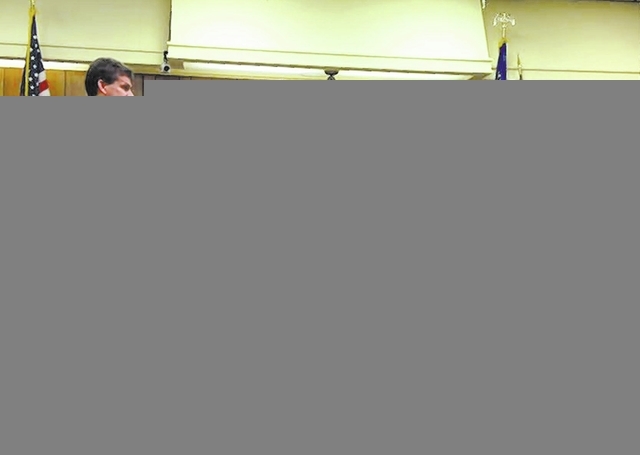 A longtime Boulder City couple who played the role of Santa and Mrs. Claus for many years were awarded the 14th annual Bill Andrews Award by the City Council Tuesday.
The council presented Shirley Putz with the award, which is intended for individuals who make a difference in the community. Wayne Putz died last year.
"I think she's an incredible woman and so deserving of this award," Councilwoman Peggy Leavitt said.
Although best known in town as the Clauses, the Putzes also were active with local charitable work.
Shirley served on the board of Emergency Aid of Boulder City for nearly 20 years, and, having nursing experience, was the charity's chief counselor for young mothers.
Wayne assisted in the Emergency Aid pantry by stocking and delivering food.
The Putzes also served as drivers and in-home caregivers for the Lend A Hand charity.
The Putzes have been active in church activities, too. Ten years ago, they, along with another couple, founded a Sunday prayer service at Nevada State Veterans Home. Shirley is still involved.
"Anytime there was an event happening in Boulder City, Shirley and Wayne were there," Councilman Duncan McCoy said.
In his nomination letter to the City Council, attorney and former Clark County Commissioner Bruce Woodbury said, "This wonderful couple worked tirelessly, selflessly and endlessly in helping the elderly, the needy and the youth of their beloved Boulder City."
"I cannot think of two more deserving individuals in Boulder City that have contributed to our residents' lives," wrote Jill Rowland-Lagan, CEO of the Boulder City Chamber of Commerce in her nomination letter. "They are icons to all and have left a lasting impression on each and everyone that encounters them."
After receiving the award, Shirley took a microphone in the council chambers.
"I'm just so privileged and happy to receive this," she said.
She said that had Wayne been there, he would have likely made a joke about how she made him get involved in the community to keep him "off the street and out of the pool hall."
Shirley said Boulder City, where she and Wayne moved in 1974, was a "wonderful town."
"It's made a rounded life for us," she said.