Mayor's inaugural State of the City tonight; topics will include I-11, aging utilities
January 20, 2016 - 4:37 pm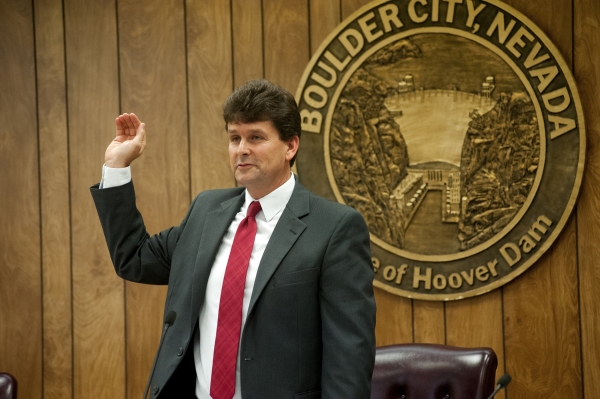 Mayor Rod Woodbury will deliver his inaugural State of the City speech today at the Boulder Creek Golf Club, where he plans to talk about "a little bit of everything" regarding Boulder City.
Woodbury will touch upon such subjects as the city's public work projects, accomplishments with the Interstate 11 project, financial and capital improvement plans and the city's solar leases.
"One of the main things I plan on talking about is preparing for I-11 as that is constructed over the next three years and what that is going to mean for the city and the business corridor — the opportunities it presents for additional development near the interchange," Woodbury said. "Another challenge I will be addressing is the aging infrastructure of the city, that includes the facilities that we have as well as our utility system that's pushing 50 years old on a lot of it — just finding the funding to improve on all that."
Construction on I-11, or the Boulder City bypass as it is also known, began in the spring of 2015. The interstate will loop around Boulder City, and eventually link Phoenix and Las Vegas, with the potential to extend north to Canada and south to Mexico, according to Woodbury.
Woodbury said there also is the possibility that he will address the ongoing investigation regarding Boulder City Animal Shelter and its former supervisor Mary Jo Frazier, a topic that has been amplified after Police Chief Bill Conger stepped down from his position last week.
"I don't have the final form of the State of the City yet, but I'll probably address something with respects to the animal shelter; I don't know how much. Certainly the investigation is ongoing there; I'm not at liberty to say too much," Woodbury said.
The State of the City address is open to the public. A social hour will begin at 5 p.m., followed by Woodbury delivering his speech at 6.
Boulder Creek Golf Club is at 1501 Veterans Memorial Drive.
Contact reporter Juan Diego Pergentili at jpergentili@bouldercityreview.com or at 702-586-9401. Follow him on Twitter @jdpbcreview.