Mayor will look forward in final State of City
January 21, 2015 - 2:13 pm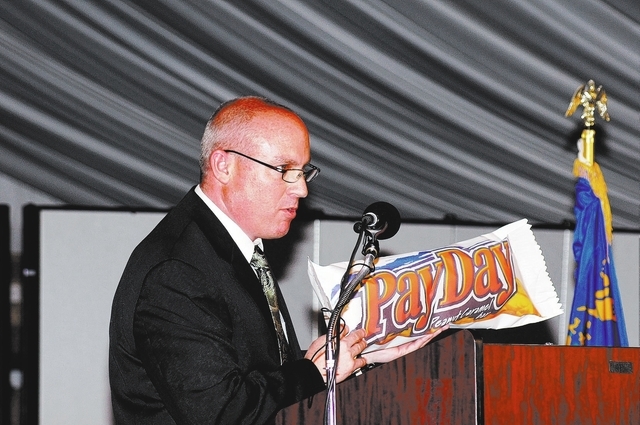 Mayor Roger Tobler will focus on the effect of the Interstate 11 project and the city's updated financial plan during his final State of the City speech tonight at Boulder Creek Golf Club.
The speech's "Embrace the Future" theme caters to the long-term effects that come with I-11, as well as the city's ability to pay off some of its debt at an early rate.
"I'm going to focus on where the city is and the things we need to be concerned about," Tobler said.
During last year's annual address, Tobler spoke of the I-11 project as well as the importance of drones to Boulder City. Now that a contractor has been selected to lead the I-11 project and construction is scheduled to begin by the summer, Tobler said he'll speak about the importance of local businesses and making sure drivers don't "just loop around Boulder City" once the interstate is completed.
"Although we need it, there are concerns that it brings," Tobler said.
The mayor said he is excited to discuss the city's updated financial plan, which was presented to the City Council during its Jan. 13 meeting. Tobler said the city's economic situation has improved since he took over as mayor, but it isn't just because of him.
"The energy zone really brought us through the economic downturn," he said.
Tobler also credited the council and city staff with their collaborative effort to get things done.
"I think a lot of it is how we work together," he said. "We've been able to come to agreements. I think that's what people want to see is that we're working it through."
Tobler said he also will give an update on drones during his speech. He added that although this is his final State of the City address, he plans to work hard until his term ends in June.
"I'm going to miss it," he said about giving the annual speech. "This is the State of the City. I'm still going to have time to work a lot. I still have five months left."
A social hour begins at 5 p.m. and the address beings at 6 p.m. The event is free to the public.
Boulder Creek Golf Club is at 1501 Veterans Memorial Drive.
Contact reporter Steven Slivka at sslivka@bouldercityreview.com or 702-586-9401. Follow him on Twitter @StevenSlivka.