Leach to be honored with name on ball field
March 26, 2014 - 12:43 pm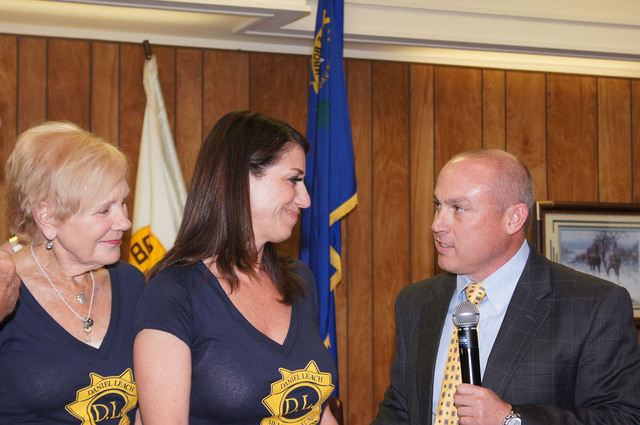 Dan Leach loved sports. Nearly five years after his death, his name will be synonymous with Boulder City baseball after the City Council on Tuesday unanimously voted to have a Little League field in Veteran's Memorial Park dedicated in his honor.
"When I was young, baseball was what we lived for," Councilman Duncan McCoy said. "For anybody who loves the game, there's no higher honor you can bestow on somebody than to name a ball field after him."
Leach, a 25-year-veteran of the Las Vegas police department and a member of the Boulder City community since 1983, was killed in an on-duty collision on U.S. Highway 95 near Searchlight in 2009.
He was always involved in the Boulder City community, according to Councilman Cam Walker, who fought back tears when speaking about memories of Leach.
"This is the right thing to do," Walker said as he looked down while nervously rolling his pen up and down his desk, overwhelmed with emotion. "It's important that we do something in our community to honor him, and this won't be the only thing that will have his name on it."
About 20 people wearing shirts in support of Leach filled the City Council chambers during the meeting. Leach's widow, Laura, credited the Boulder City community with assisting her and her two children, Christopher and Alexandra, after he died.
"It's a big thing to say we survived our tragedy with the help of Metro and our community," she said. "This is a very big honor."
Walker said he wasn't sure when the dedication would be on the city's agenda since it had been talked about for several months, but he was hopeful it would take place on National Night Out, a night where members of the community honor police officers and firefighters, which is scheduled for Aug. 5.
"It's where we recognize our public servants who protect and serve," he said. "And that was Dan."
Councilman Rod Woodbury played basketball with Leach, and spoke of Leach's competitiveness on the court, as well as his friendliness off the court.
"He always went out of his way to make sure he was your friend," he said. "He treated me that way with respect. He was always a gentleman in everything he did. This is a fitting way to honor him."
The City Council presented Leach's family with a certificate in his honor after a resolution was passed to rename ball field No. 1 at Veteran's Memorial Park the Dan Leach Field.
"We have to honor him, and I can't think of a … better way to do this," McCoy said. "He'll look down on us from above and say, 'good job.' "
Other actions the City Council discussed Tuesday:
n A question for the 2014 general election ballot was approved seeking approval to sell 29 acres of city-owned land on the southeast corner of Bristlecone Drive and Adams Boulevard from the capital improvement fund. The money generated would be used to improve the city's utility infrastructure.
n Funding for community development block grants for the 2014-15 fiscal year was approved for two nonprofit organizations. If the same model from the 2013-14 fiscal year is used for 2014-15, Emergency Aid of Boulder City would receive $21,000 in funds, and Lend-A-Hand would receive $7,500, according to City Attorney Dave Olsen.