Frazier arrested, pleads not guilt; to face jury trial on two counts of animal cruelty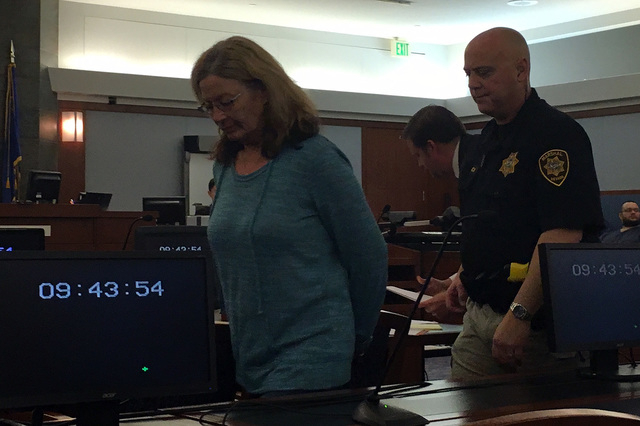 Mary Jo Frazier, the city's former animal control supervisor, was arrested Tuesday and has been released on bail after she was booked into Clark County Detention Center on two felony counts of cruelty to animals.
She appeared in front of District Court Judge Susan Johnson Tuesday morning after the Clark County grand jury indicted her on March 3.
Frazier's attorney, Daniel Page, requested she be released on her own recognizance, which Johnson denied and set bail at $50,000, as well as ordering her to stay away from any animals while she awaits trial.
District Court records show a bail bond service posted part of that amount Tuesday.
"She is adamant about her innocence," Page said, noting that Frazier, who pleaded not guilty to the charges, traveled from out of state to appear in court.
Frazier resigned from her post in April, sold her house and moved to Oregon after a Boulder City police detective completed an investigation into multiple charges that she needlessly killed animals brought to to the shelter.
Police Chief Bill Conger, who has since resigned from his post, decided not to press charges because he felt it would be moot considering she retired shortly after the investigation ended. However, after public protest, the city submitted the case to the district attorney's office in December, seeking 37 counts of animal cruelty.
The two counts filed against Frazier are for the unjustifiable euthanization of a male Dachshund named Oscar, who belonged to her ex-husband, Jeffrey Frazier, and the other is for failing to provide adequate food, medical care and/or pain management to a pit bull puppy named Lotus, which was brought to the shelter after it was abused.
Each count carries a possible penalty of one to four years in prison.
"Animal cruelty of any type is unacceptable," said Clark County District Attorney Steve Wolfson. "This case is especially unsettling because the defendant was a person trusted by our community to treat all animals in her care humanely. Ms. Frazier violated her duty when it came to Oscar and Lotus."
According to the district attorney's office, the charges brought against Frazier "are based on the information our office has received. Should there be additional information submitted we will review for additional charges."
The statute of limitations for animal cruelty stretches back three years, according to the prosecutor.
"The city appreciates the diligence of the Clark County district attorney's office in pursuing this case and fully supports its ongoing efforts to see justice served," said City Manager David Fraser in a statement. "We will continue to monitor progress and will cooperate with the district attorney as appropriate."
Frazier is scheduled to appear in court Sept. 12, court records show.
Boulder City Review reporter Kimber Laux and Las Vegas Review-Journal reporter David Ferrara contributed to this article.