Drug court receives donation from Rotary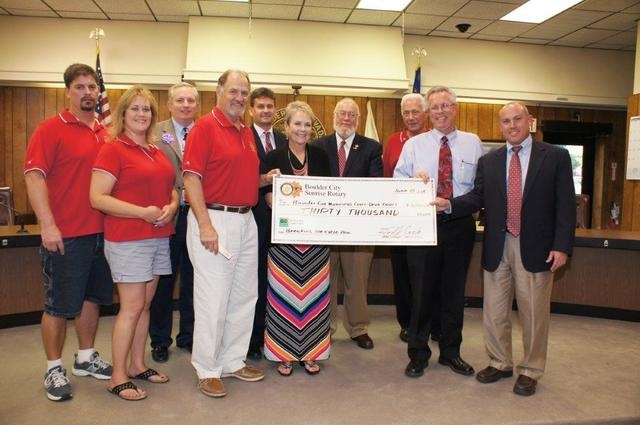 The Sunrise Rotary presented the Boulder City Municipal Drug Court with a $30,000 donation during Tuesday night's City Council meeting in the court's effort to help promote drug and alcohol awareness.
Rotary member Doug Scheppmann said the donation will go toward the Municipal Court's "Breaking the Cycle" program, which is headed by Judge Victor Miller.
Scheppmann said the Rotary has provided funding for Boulder City High School's graduation night for more than 25 years, an event that costs about $30,000. He said this particular donation to the court will help cater to a different need for the city.
"We're trying to address an issue within the rest of Boulder City and to help those Boulder City residents who have a drug or alcohol addiction, and to those who are committed to breaking that cycle and going back into society and hopefully cleaning up their act," Scheppmann said.
Miller said there is still a definite need for more drug and alcohol awareness, adding that limited resources within the court have made it more difficult to implement change. Miller also said that the donation will make the community safer since those who suffer from addiction tend to create other problems.
"Unfortunately people who have substance abuse problems or addictions have to feed that addiction somehow, and it often results in crimes," he said. "If we can break a cycle, we can stop those unfortunate crimes, and the victims don't have to suffer, the perpetrators don't have to suffer, and the whole community is better."
Miller said the donation will help provide counseling and more supervision to those struggling with addiction, among other things.
"We want to do everything for the citizens in Boulder City to give them the best quality of life," he said. "Personal issues within a small community affect the entire community, so if we can help somebody lift themselves up and break a bad cycle, it's going to help all of us."
Councilwoman Peggy Leavitt thanked the Rotary for its donation and said the contribution will make a great difference in Boulder City.
Miller, who is president of the Boulder City chapter of the Nevada Community Prevention Coalition, said the Rotary's donation is more than just money.
"We've run into this road block for years as we've been trying to deal with substance abuse," he said. "This will give us the opportunity for some counseling and some other supervision that will help people break that cycle. We're just thrilled that the Sunrise Rotary has approached us and has come forward with this so that we can make a difference in Boulder City."
Other items covered at Tuesday's council meeting include:
■ The City Council reappointed councilman Cam Walker as mayor pro-tem for the next year.
■ The City Council approved the Fire Captains bargaining unit through fiscal year 2017.