City bans medical marijuana businesses
February 26, 2014 - 1:57 pm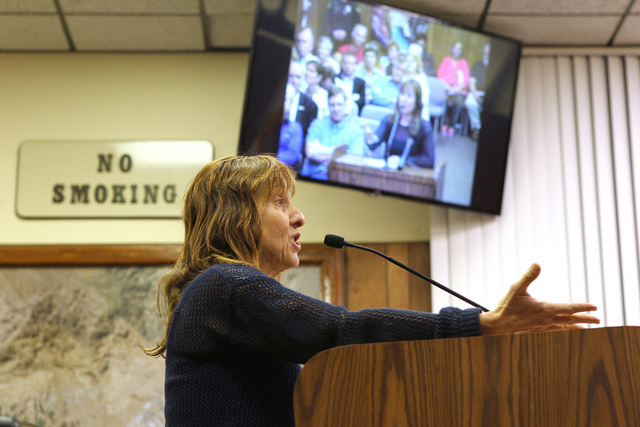 The City Council on Tuesday approved a zoning ordinance banning medical marijuana establishments within city limits.
Boulder City is the first city in Clark County to ban such establishments, which include testing laboratories, cultivation facilities, facilities for the production of edible marijuana products or marijuana-infused products, and marijuana dispensaries.
The council's unanimous vote came after lengthy public comments where 10 individuals passionately spoke for or against the ban.
Resident Myreen Aschenbach said she felt "very proud" that the city was considering banning the establishments. She said in Venice, Calif., where the establishments are legal, her young daughter was once offered marijuana prescriptions on the street.
"Our kids are exposed to enough drug dealing in the schools as it is," she said. "It just makes it more available for abuse."
Resident and former King Elementary School teacher Clare Tobler said he loved the idea of the ban because he heard from Police Chief Bill Conger that crime has gone up in cities where the establishments have been permitted.
Tobler, who is not related to Mayor Roger Tobler, said he has appreciated the many freedoms of Boulder City during the 35 years he has lived here, and "one of the freedoms we have is freedom from crime."
However, individuals with firsthand knowledge of medical marijuana's benefits spoke in opposition to the ban.
"(The demographic of medical marijuana patients) is less similar to people at a concert and more similar to people you'll see in a line at CVS pharmacy," John Leahy said.
If the establishments were permitted, it would not create a large industry like Venice because the patients in Boulder City represent "a sliver" of the population, he said. Leahy, who began using marijuana for headaches after a brain injury, said he simply didn't believe the city should be interfering in his health choices.
Michael Jameson spoke on behalf of his parents, Boulder City residents Gard Jameson, a University of Nevada, Las Vegas instructor and a former minister at Grace Community Church, and Florence Jameson, a Las Vegas physician.
He said his parents support medical marijuana and may be interested in opening a marijuana establishment in the city.
"It would be lovely to see stores in Boulder City for those folks who absolutely do need it," Michael Jameson said.
Councilman Cam Walker said he understood the need for medical marijuana and even had a family member who used it. However, he said the city doesn't have the resources to deal with the potential demand from entities interested in opening dispensaries once Nevada begins permitting the establishments April 1.
Councilman Duncan McCoy said that despite his personal belief that marijuana should not be criminalized, he had concerns that all marijuana use is still illegal under federal law.
"They have not changed the fact that this is prohibited at the federal level, and that puts us in a tangle," McCoy said.
Despite the ban, many states have legalized medical marijuana and the federal government has taken a stance of nonenforcement. Medical marijuana has been legal in Nevada since 2001.