City aims to improve communication via new website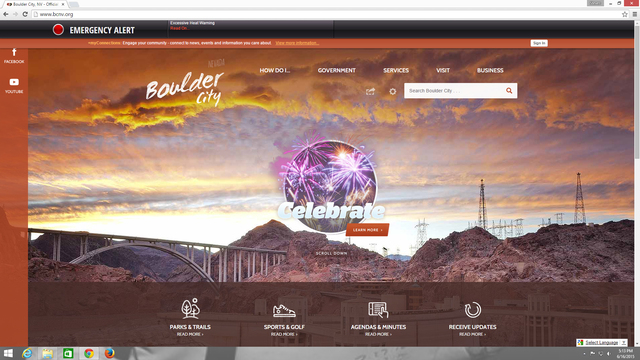 The last time that Boulder City had a new website, Tiger Woods was the top-ranked player in golf and Barack Obama had just been sworn in as president.
Now, almost two weeks after the city went live with its first new website in six years, city officials are banking on technological upgrades to bring City Hall into the smartphone era.
"The biggest thing we hope to provide is better citizen communication, to keep (citizens) in the loop and provide better information," Brok Armantrout, the city's community development director, said.
The new website, which can be viewed at http://www.bcnv.org/, has calendars for every city commission and committee, as well as Little League, Armantrout said. Citizens can sign up to receive email and text message reminders about the meetings and other upcoming city events, as well as alerts about flash floods, power outages and other emergencies.
One side effect of the change will be that the city will again start streaming BCTV on its website. The channel, which features programming that includes City Council meetings and high school sports, was discontinued on the old site after hackers suspected to be from Eastern Europe tried to infiltrate the site.
"We suspect they tried to hack our site because we tout ourselves as home of Hoover Dam, and thought we operated Hoover Dam," he said. "But if you're overseas you don't know that."
The new website has greater security protections, which allows the return of BCTV, Armantrout said.
The site was built by CivicPlus, a company based in Manhattan, Kan., that operates more than 1,800 websites for local, county and state government agencies.
Armantrout said CivicPlus was able to respond quickly to hackers, and that they offered a competitive price for the site.
One of CivicPlus' clients is Ferguson, Mo., Armantrout said. After an African-American teenager was killed there last August in an officer-involved shooting, sparking riots, "people tried to hack (the city's website), but (CivicPlus) nipped it within an hour," Armantrout said.
Boulder City paid $27,000 for the website, and will pay CivicPlus an annual $4,000 hosting fee, Armantrout said. If the city remains a client after four years, CivicPlus will redesign the website in the fifth year for free, Armantrout said.
The company aims at three priorities in general, said creative director Jeff Baker: information-sharing, "citizen self-service" and the promotion of community involvement.
"The website is essentially the hub of the organization and how it interacts with its citizens, keeping the community in the know," Baker said. "It enables citizens to sign up for information they're interested in through email or text notifications."
CivicPlus has built more than 1,300 websites for local governments, according to the company's website. In Nevada the company has built or operates websites for the cities of Carlin, Fernley, Gardnerville, the Douglas County Airport and four counties.
Contact Knowles Adkisson at kadkisson@reviewjournal.com or 702-224-5529. Find him on Twitter: @knowlesadkisson.