Challenge teaches mayor about hunger issues
February 6, 2014 - 5:08 am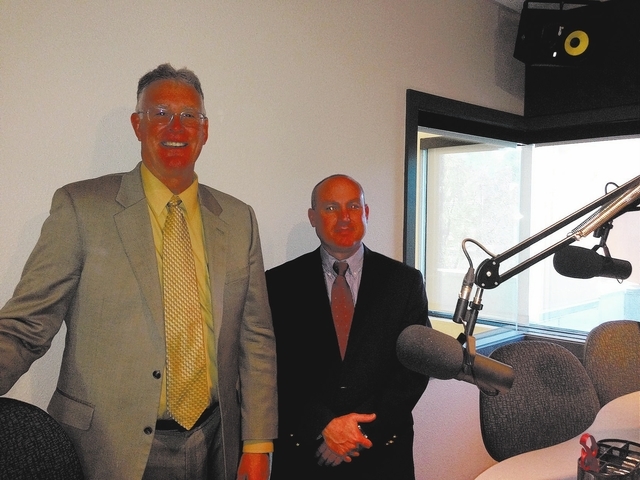 Last week Mayor Roger Tobler ate as if he was on food stamps, but residents need not worry for the mayor's well-being because he was only participating in a temporary program designed to bring awareness to the federal food assistance program.
The SNAP Experience, a collaborative effort among Three Square Food Bank, AARP and Weight Watchers, challenged local dignitaries and celebrities to spend no more than $18.55 on food for five days last week.
The challenge was designed to bring attention to the federally funded Supplemental Nutrition Assistance Program, formerly known as food stamps.
"You realize there are people who don't have a lot of money and become more sensitive to these issues," Tobler said of the reason why he decided to participate in the challenge.
Tobler said he successfully completed the challenge, which required him to spend only $3.71 a day on food Jan. 27-31, the amount designated to those enrolled in the program.
Tobler's wife and two daughters also joined him in the challenge, which gave the family more funds to spend on each day's food and made preparing meals, especially dinner, easier, he said.
"I was more than happy to do it because it was a really good program," Tobler said. "I did follow it to a T. It was not easy, but if you plan it out you can eat decently."
Tobler said his family was able to eat three meals a day. In the morning, it was oatmeal or eggs, he said.
"Eggs are pretty cheap unless you add all the fixings," he said.
For lunch, he would drink a can of V8 juice or eat peanut butter sandwiches.
And for dinner, the Tobler family ate potatoes, hot dogs and spaghetti.
The most difficult part was cutting snacks out of his routine, Tobler said.
"During the day I'm used to snacking. You can't do that on this program," he said. "Where I really felt (hungry) was right before lunch and dinner."
Tobler said he also could not afford the two 7-Eleven Big Gulp sodas he drinks daily, but he was able to afford canned soda.
The mayor also had to decline if someone wanted to take him to lunch and he did not eat any of the catered food at his Jan. 30 State of the City address.
"If you had to deal with that hunger all the time, it does make you feel for the people that live at the poverty level and understand how important these Three Square and food assistance programs are to people," Tobler said.
This was the second biannual SNAP Experience, said Matt Muldoon, Three Square's chief development officer.
"The basic premise was we wanted to draw greater awareness to the issue of hunger in Southern Nevada," he said.
The mayors of Las Vegas, North Las Vegas, Henderson and Mesquite also participated. Muldoon said the participation of the mayors was important, because of their influence on food assistance policy.
"Those policies can dramatically change the level of benefits received by an individual," Muldoon said.
More than 250,000 low-income Southern Nevadans rely on SNAP benefits, half of whom are children.
Coincidentally, the SNAP Experience came at the same time as the approval of the U.S. farm bill, which cuts $800 million annually in funding for the food assistance program and alters eligibility rules. This comes on the heels of a Nov. 1 cut of $11 a month per person.
More than 100 individuals participated in the experience, including Weight Watchers Business Development Director Heather Avila, University of Nevada, Las Vegas assistant men's golf coach J.C. Deacon, comedian Vinnie Favorito, UFC Hall of Fame mixed martial arts fighter Forrest Griffin, Channel 13 news anchor Jessica Janner, comedic magician Mac King and KKLZ 96.3 FM midday personality Terrie Springs.
Participants were encouraged to blog about their experience on the SNAP Experience website, www.snapexperiencelv.org.