Boulder City Municipal Airport gets $1.4 million grant to repair runway
September 9, 2015 - 4:37 pm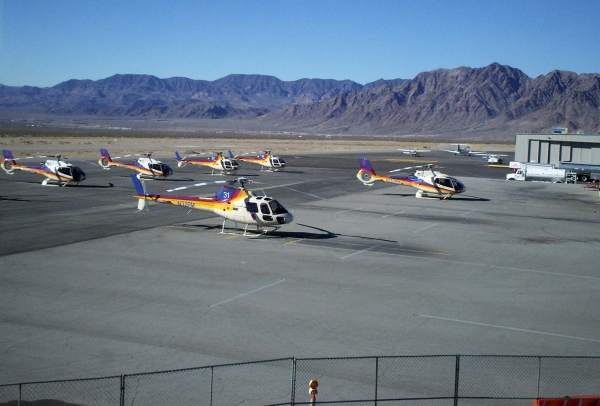 For the second time in six weeks, the Boulder City Municipal Airport will be the recipient of a federal grant to make needed repairs to the runway.
The airport will receive a federal grant totaling about $1.4 million to repair its infrastructure, the airport announced earlier this month.
The grant, given by the Federal Aviation Administration, will pay to seal cracks and remark 4,800 feet of runway, maintaining the "structural integrity of the pavement," according to Senator Harry Reid's website.
The grant comes as part of an annual FAA award the Boulder City airport is accustomed to receiving, said Kerry Ahearn, airport manager. Boulder City Municipal Airport is traditionally awarded between $1 million to $1.8 million each year to fix problems like runway cracks and drainage systems.
Just last year, the department spent $3 million to improve its drainage system, Ahearn said. The runway was last mended in 2010.
"We thought the runway repairs were going to last a little longer," she said.
Ahearn said the airport plans to begin discussing the 2015 repairs as early as today and could start construction as early as the first week of October. Two separate projects, a two-week runway renovation that includes remarking and adding signs, and a 65-day drainage project, should be completed by the end of 2015, Ahearn said.
The airport, which caters mostly to tourists flying to the Grand Canyon, also will be closing one of its three runways in a cost-cutting measure, Ahearn said.
Boulder City's airport grant was one of three FAA grants issued to Nevada airports. In addition to Boulder City, the Reno-Stead Airport will receive nearly $1.5 million and the Jean Airport will receive nearly $400,000. The three grants totaled $3,485,932.
Contact Chris Kudialis at ckudialis@reviewjournal.com or 702-383-0283. Find him on Twitter:@kudialisrj.